As we continue to build resources and support for creative entrepreneurs at Edson E+I, we strive to show, rather than tell, our community that entrepreneurship is for everyone, and that the BIPOC community is welcome in our spaces. 
During the 2022-23 academic year, we hosted an event series at Fusion on First called Making Conversation, where we invited artists into our space to create with our students in an informal setting, opening up room for conversation about their practice from both a creative and an entrepreneurial perspective. 
I had the opportunity to sit down with each of these creative entrepreneurs, all BIPOC artists, and learn more about their work and perspective on being a creative entrepreneur.
Our Featured Artists
Tiesha Harrison
Tiesha Harrison is a multidisciplinary, Arizona-based artist. She graduated from Milan Art Institute in 2020 and earned a Bachelors in Interdisciplinary Studies from ASU. She inspires greatness through conceptual imagery and art immersive experiences. The product of her brushstrokes and creativity evoke sensations of vulnerability and emotions connecting viewers with vibrant manifestations of truth.
She thrives on self-mastery, creativity and self-reflection to help bring awareness to important topics like mental health. She collaborates with organizations, aiming to expose the voices of those who have been silenced by inner doubt, and welcome others to fully embrace their UNDEFINED soul.
Aileen Martinez
Aileen Martinez is a Phoenix-based, Chicana artist who creates colorful drawings of places around the Valley and the City of Phoenix. The artist chooses to work in social spaces such as cafes and restaurants. These locations act as her public studio. She also works with the public to make special commissions, drawing people's homes and places that they find special and dear. Martinez has a bachelor's degree in Art Therapy from Southern Adventist University in Chattanooga, Tennessee. She believes in art's ability to be an expressive outlet that has the power to build empathy and bridge communities.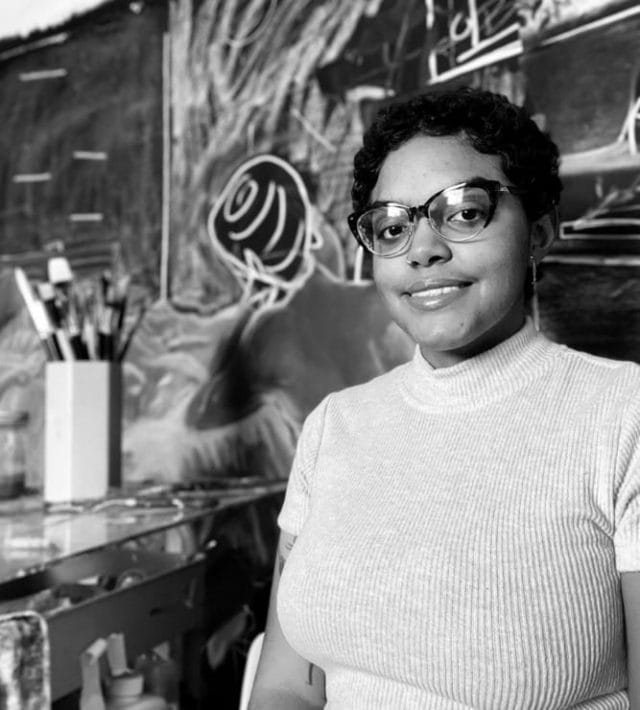 Brianna Noble
Brianna Noble's work has traditionally focused on their existence in their surroundings, community, and society. Noble's long-term goal in art-making is to, "just paint something pretty".
The work has recently made a change that focuses on the figure in their environment without outside judgment. It is a step toward the goal while also dealing with the everlasting assumptions placed on a Black, skinny, femme body.
Ronnie Burton
Also known as FATS, Ronnie is a self-taught artist from Tucson, AZ, that made Phoenix home about 10 years ago and is a full-time commissioned artist. Creating has always been a fun hobby since he was a kid, doodling and drawing on friends' backpacks during school. But that doodling has transformed into something real. It became his outlet when trying to find direction in his life. Ronnie decided to take the unconventional route and bet on himself, a decision that has changed his life forever. Now, Ronnie is relentlessly pursuing his dreams and hopes to be an example of someone that took the risk and beat all odds while inspiring the next person (and generation) to chase theirs fearlessly.
Artist Conversations
Keeping Joy in Your Craft
Like many entrepreneurs, it can take some time before an artist finds a financially stable path. Keeping the joy in the work–both the creative and the business–has to be intentional.
"I have to keep reminding myself why I'm doing something and find little things that bring me joy within those things," said Ronnie. "I'm a big learner, so I like to get out of the house, physically walk the streets, see things, learn new things. 'Cause if I come back to the house with new things that I learned, it will help me stay in the creative move, which ultimately brings happiness for me."
For Brianna, they find joy in doing the work they love. "I create what I want to create instead of making things that I know will sell," they said. "If I find it funny, I'm going to include it, if it's what I wanna do. So going in the outlet of what I enjoy."
Taking the business aspect out of the process–at least temporarily–helps Aileen also get back to what she loves about creating. "I will take a day out of the week or the month and I specifically make the attempt of going to draw without the intention of selling that drawing," she said. "I think for awhile I was just consumed with making drawings with the intention of selling them, and that definitely lost some of that joy." 
Making money is necessary, of course, but she doesn't want to create just for the money. Sometimes making art for herself is enough to bring back the spark. 
Similarly, Tiesha finds joy in the creative thinking part of the process. "I love helping others," she said. "So when I chase or when I know there is a problem out there and finding the solution, I feel like the money will come once you're doing what you love, what your passionate about."
Reaching your target audience
There are any number of ways to promote your work. But finding your specific niche within the broader community takes time and effort. For artists and entrepreneurs, it helps to find a channel you enjoy using to share your creations.
"I absolutely love social media, especially Instagram and Facebook," said Tiesha. I feel like those are my two main tools for getting the word out there for my business."
Once you have a platform, you can use it to start building connections and relationships. Finding those shared experiences helps you identify those who truly engage with your work. 
"If I'm drawing a local business, or a place where there's people who have connections to that, I go out of my way to make connections with those people," Aileen said. "In the past, I was just making drawings, posting them online, tagging them, and hoping that they would see it. But that's not always the case, so fi I want to work with them or sell something to them, then I will talk with them. That's been really helpful."
Regardless of the channel or method, approach your target audience with authenticity. Aim to build relationships and the transactions will come.
"Every day I try to make it a goal to talk to someone," said Ronnie. "Instead of selling myself as an artist, I end up telling people about my art after they either learn about me or I learn about them, so it creates a more genuine relationship."
Working through the pandemic
Along with social distancing and remote everything, entrepreneurs across all industries had to rethink a number of processes. And provided opportunities to try new things.
"With the pandemic, the beginning of it, I was at home because I wasn't working at school anymore, we weren't going in person, and I had a lot of free time," Aileen said. "I had this idea of drawing Phoenix. I started that like three years ago, and since I had all this free time, I hit the streets. I'd take my little table and chair and sit at these places. And one thing I do like about myself at the moment is I was very dedicated. I would wake up at the crack of day, and I would go and sit there at a location for like eight or nine hours. I don't think I could do that now because I've gotten soft and comfy, but yeah, I was doing that, and that kind of got a little traction. But I did that for some time, drawing at location."
The pandemic also forced some entrepreneurs to take a breath and let inspiration come at its own pace. For Brianna, affected them by slowing them down. 
"I thought, 'I have all this time. I'm going to create all these things.' I did not," they said. "I tried and tried, and then I realized that I'm fighting it. I decided to give myself the time I needed. It's shown me that it's not gonna always happen that way. You can have burnout when you rest. It happens."
The pandemic hit about two and a half years after Ronnie started painting, and the increase in demand from people wanting to redecorate gave him confidence. "I was a little afraid," he said. "But honestly, during the pandemic, that got me over the hump. I found a lot of people wanted to buy a lot of art during the pandemic. I had a really good at least year of the pandemic, and it helped me out a lot."
Unexpected benefits (and surprises) of entrepreneurship
Entrepreneurs can glean a lot of great information from mentors and other businesses, but entrepreneurship is best learned through experience. That means there are often surprises–and opportunities for growth–in every business journey.
For creative entrepreneurs like Brianna, the business aspect can be a learning opportunity, like how to keep track of receipts and paperwork for tax season. "That's been fun, realizing what it's like being an artist during that time of year," they said. "Like, did you keep track of all the money you spend and all the money you earned? Keep better track of that."
Tiesha made the move to creative entrepreneurship after starting out in event planning and leadership. "If I knew it was going to be this fun, I would have done it sooner," she said. "I would have taken the art classes, I would have taken the business classes that I've done. And being able to transform lives, I think that is the most ultimate job ever."
For Ronnie, entrepreneurship has shown him the value of quick but educated decisions. Something he wished he'd known sooner was "to not overthink anything in my career," he said. "And that you need good people and a good team around you, for sure."
The most important skill for creative entrepreneurs
Entrepreneurs must wear many hats: accountant, marketer, creator, manager. But the skills needed to be a creative entrepreneur transcend one role.
Some important skills don't always come naturally to creative entrepreneurs. The most important skill for Brianna is networking, which forces them out of their comfort zone. "Talk to people," they said. "I'm such an introvert. Just go outside, meet people, talk to them and remember their names."
For Ronnie, the skill he prioritizes is self-discipline. "Especially being an entrepreneur, that's the hardest part, to have self-discipline every day," he said. "A lot of the things about entrepreneurship is you're losing a lot and then you're winning in one day, and then your going to lose a lot more more days than win. So the losses are the lessons. You have more lesson days than winning days. So self-discipline for sure."
Learning to trust yourself and what feels right is a hard skill to master, but an important one for Tiesha. "I think you can learn any skill with repetition and taking the right courses," she said. "But following your heart is the most important thing because everything else follows: money, skills."
Advice for new entrepreneurs
Every entrepreneurial journey has its bumps. Some have to be experienced, but some can be avoided by learning from those who were on the path before you. When asked what advice they would give to someone interested in trying something new, like becoming a creative entrepreneur, the artists all agreed: just start.
"Really, that's it," said Tiesha. "I always refer back to when I didn't have the experience. After experiencing the event that I created, I was like yes, I want that to be my vehicle for inspiring the world. Well in order for me to get there, I had to start even though I didn't have experience. So just start researching if you see something that's in relation to what you love or what you wanna do, then just ask questions."
"When I was working my regular job and then doing art at the same time, I thought there was going to be a magical day where like today's the day you got everything in order, go start, take the risk," Ronnie said. "But that day's never gonna come. You literally have to jump off a cliff. One day, I went to work and was like I'm not coming back tomorrow, so today's the day I'm starting. You have to literally just start. There's no right day to start chasing your dreams."
Starting when you aren't sure if you are ready is an intimidating prospect. But Brianna encourages new entrepreneurs to embrace that.
"You're gonna mess up maybe," Brianna said. "Maybe you'll be great at it. Just try it out. I guess don't invest too much money into something you're just trying out. Maybe ask around if people have leftover supplies, or good old Tiktok. See how to do the craft you're interested in on there, or Youtube University, and then go about it."
Tiesha agrees that asking for help is an important part of starting. "I love reaching out to different organizations," she said. "Asking for help is really huge. A lot of people have a thing about asking for help, but that's really huge. When people know what you're doing what your vision is–creating the vision, that's another one–then there's leaders out there that are willing to help."
What does entrepreneurship mean to you? 
No two entrepreneurial journeys are exactly the same. They will have different markets, different audiences, and different hurdles to overcome. But for these four creative entrepreneurs, passion, flexibility and grit are common themes for their business ventures.
"Entrepreneurship means to me that you have to have a lot of grit. You have to grow into a different version of yourself where there's a lot of grit, a lot of selfishness," Ronnie said. "There's a healthy level of selfishness where you know you have to get some things done, and you have to separate from people. So it's just knowing that you have to transform into a better version of yourself to better yourself in the long run."
The other part of grit is flexibility–and knowing you can find a way to make it work. For Brianna, entrepreneurship means not thinking there's one way to do something. "There's obviously thousands of ways to get one job done, so don't be limited to, 'Oh I'm an artist, I must stay doing artist things.'" they said. "You can have other outlets, you can be interested in more than one thing and make money off it."
But for there to be grit, it has to start with a love for the work, and the people you are creating for.
Entrepreneurship is "having something you're passionate and you care about, and going and paving your way, and kind of like learning and growing, and seeking that out and trying to make it sing," said Aileen.
For Tiesha, entrepreneurship is following your heart in whatever it is you want to do. "You can always put a spin to it, like the business aspect, right?" she said. "Like I love art, you can create that into a business. Whatever idea you have, just go for it. And then obviously take classes too. Make sure that your business is lucrative and sustainable. So yeah, it's basically just following your heart and doing the things that you love."
Supporting entrepreneurship at ASU
These artists are just a small sample of the creative entrepreneurs that pass through Fusion on First on a regular basis, and Edson E+I is honored to provide the space to facilitate their connection to the community. 
Visit our events page to find our upcoming events. If you are a creative who wants to harness the power of entrepreneurship to cultivate the business side of your practice, check out our Venture Devils program.