Named for its location on First Avenue and its fusion of performing and visual arts, fashion, industrial design and entrepreneurship, Fusion on First offers a way to engage students interested in those programs and provides connections to creative entrepreneurship opportunities.
About
The Edson Entrepreneurship + Innovation Institute hosts a 3,900 square foot space on the ground floor of Fusion on First for co-working, pop-up retail, events and exhibitions. This space is a fully activated element of the larger sixteen story, 283,000 square foot building housing Herberger Institute for Design and the Arts programs in fashion and popular music. With apartment-style living, it's also a place where more than 500 undergraduate and graduate students call home. Reservation priority is given to events supporting entrepreneurial initiatives.
This space is best suited for
Any ASU student interested in pursuing entrepreneurial ideas and participating in events in the space.
ASU undergraduate students and graduate students studying design, popular music and fashion.
Available for ASU staff and faculty.
Location
380 N. 1st Avenue, Suite 125
Phoenix, AZ 85003
Parking
Fusion on First has a parking lot adjacent to the building that is managed by Parkmobile. Rates are $3.35 per hour or $15.35 per day.
ASU also offers the following visitor lots:
Rate: $3 per hour. Maximum rate: $16. Monday through Sunday, 24 hours a day.
Rate: One hour or less: $3. Maximum rate: $16.
Monday through Sunday, 24 hours a day. Reservations encouraged.
For large-scale events, additional parking options are available with fees.
Photos
Amenities
Collaborative workspace
The collaborative workspace provides ASU students, staff, faculty, and ventures with 1,891 square feet of workspace to turn their ideas into a reality. Built on a hot-desk, hoteling model, the collaborative workspace offers:
11 open workstations with privacy screens and a monitor.
Small capacity black and white printer.
Six lockers (first come, first served).
Two conference rooms each with a whiteboard and mobile 55" display audio/visual carts – 10-person capacity.
Kitchenette.
Event space
Located on the ground floor of Fusion on First, the 1,795 square foot event space (3,598 square feet when combined with the lobby) offers a meeting space with furniture, fixtures, and audio-visual equipment, including:
A drop-down projector screen.
A dedicated podium and laptop.
Lavaliers, handheld microphones.
Hybrid event technology.
100-person capacity (seated) / 515-person capacity (standing).
Access the co-working
Access to the space is available to ASU faculty, staff, students, Edson E+I Institute Venture Devils and our affiliates.
Reserve a space
You may request a reservation for the conference rooms, event space or Flip Kitchen.
Contact
Email [email protected].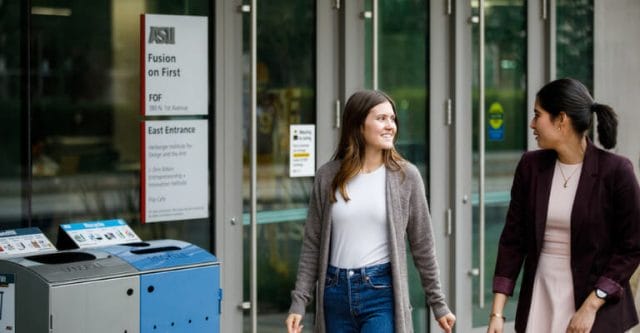 Use this space
Access the co-working space.
Reserve the conference room, event space or kitchen.
Want to be added to our PBIS Newsletter?
For more information, email [email protected].
Meet. Connect. Collaborate.
From event venues to makerspaces, meeting rooms to coworking locations, we have the space for you to connect with your entrepreneurial community.