The fashion industry, with its long-standing traditions, leaves much room for innovation. Drawing inspiration from seasoned experts enables us to reimagine a future beyond the current norms.
Advancements in manufacturing and materials are changing the way experts and consumers see the fashion industry. Many seasoned textile professionals are helping to reimagine a future with sustainability and innovation at its core.
At Edson E+I, we have the opportunity to host a number of Entrepreneurs in Residence (EiRs) at Fusion on First, on the Downtown Phoenix campus. We regularly invite guests in collaboration with the Herberger Institute for Design and the Arts (HIDA). These guests are leaders in their fields and have been strong innovators and guiding lights throughout their lengthy careers.One of our recent EiRs, Margaret Frey, Ph.D., specializes in textile sustainability research, innovating their production and use. Frey is the Vincent V. C. Woo Professor in Fiber Science and Apparel Design at Cornell University and has taught at the school since 2002. She also serves as a faculty fellow for Cornell's Atkinson Center for a Sustainable Future and for the Cornell Institute for Fashion and Fiber Innovation.
Frey has been an innovator throughout her time in academia, performing cutting-edge research on the future of textiles and developing nano-fibers with a variety of practical and forward-looking applications. She took the time to sit down with us and answer a few of our questions on innovation, research, and the future of the fashion and textile industry.
Photo of Margaret Frey, Ph.D. by Dave Burbank
How did you end up in the textile and fashion industry? Why go the academic route?
"I have always been a sewer, but my strengths and interests were more on the side of science and engineering," Frey explained. "So when I went to college, I first got a chemical engineering degree and saw that the applications that interested me most were in the textile and apparel industry."
Frey spent a few years working in fiber chemistry, initially focusing on haircare before earning her Ph.D. After completing her doctorate, she switched to developing cable textiles for automotive companies. But in 2001, the industry entered a slump, and Frey decided to make a bold move.
"I saw this position at Cornell in the Department of Fiber Science and Apparel Design for a professor and I really enjoyed applying for it," Frey said. "I thought about what would I want to work on, and what would I want to do if it didn't have to turn a profit in the next six months, if I had more range for creativity and innovation." 
What is a pressing issue facing the fashion and textile industry?
"Sustainability. It's a big issue in the global textile and apparel industry, and materials design and business all play very important roles in that," Frey asserted. "Materials and chemicals [need to be] handled responsibly throughout the supply chain, so that workers are protected, so that things aren't dumped into the environment and also so that [garments] can be used longer."
This issue has Frey and others in the textile industry looking at innovative ways to repurpose clothing items.
"This will actually generate some new industries that take that T-shirt when you're done with it and help make it into something else or help get it to somebody who might want to use it," Frey said.
What would you say to students who are interested in exploring some of these new opportunities, and forging their own pathway in that?
"Really do their research and keep their eyes open and pull in any other expertise that they may need," Frey said. "They should explore what their supply could be, what their raw materials could be, what the performance of those is going to be, what the cost of those is going to be, and what their market is going to be." 
That market research will be crucial for the fast-paced and trend-focused fashion industry. Frey suggests entrepreneurial students ask themselves, "Are people going to be attracted to buying these? Who is their customer, how are they going to make a market plan and what price point would they need to sell things at?"
Frey also underscored the importance of securing adequate funding for entrepreneurial ventures, something we can help with at Edson E+I. One way to learn more about securing funding is by talking with us about Venture Devils and other resources available to you!
What skills have you learned over the years to support your entrepreneurial journey?
"So I think some of the skills I have needed to learn is to really check my assumptions about the students I'm working with," Frey said, laughing. "[Tools that were] great 30 years ago [are now] completely different tools and a lot of the students are actually much better at identifying those and working with those, where they're very difficult for me."
That consistent learning, especially from people who have different experiences, is a key part of Frey's entrepreneurial journey. 
"I would say I may not have totally learned all the new things, but a lot of it is trusting the students, believing and supporting them, and in going with the modern ways of doing things."
Knowing what you know now, is there anything you would have done differently when you were first starting out?
"I think many people would say this to their younger self: not to worry about mistakes you've made, things you've done that were imperfect," Frey said. "I'm also going to understand that maybe I need more [of a certain] skill and bring in people or collaborate with people who are stronger in this area. And really that's true in so many areas. Being open and being in conversations where you may not absolutely understand everything and being confident that your partners can do that part."
And last but not least, how do you maintain that go-getter mentality?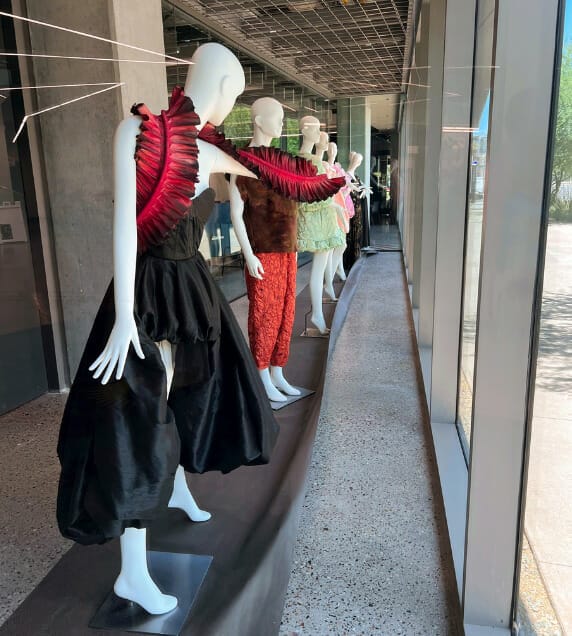 "I think there's a point in every person's Ph.D. time where they're just like, 'This is hopeless. This is never going to work. My project is never going to work. I should just give up and quit,'" Frey acknowledged. "And somehow you need to go through that." 
That might mean taking a break and coming back to it.
"I think it's really a normal part of the big projects…that's a really good time to completely step away for a little while and do something that's going to help clear your mind," Frey said. "And then come back or just set some part of it aside, that you're really struggling with and work on another part."
Photo of Fusion on First by Jackie Gutierrez
Find out how you can begin your fashion career journey with a degree in fashion at the ASU Herberger Institute School of Art by exploring the ASU FIDM website. 
Ready to connect with a community of creative entrepreneurs and innovators? Check out Fusion on First at 380 N. 1st Avenue, Suite 125 Phoenix, AZ 85003. You can access the collaborative space by completing this form.  
We look forward to seeing you in the space!