It's that time of year! If you are still working on your holiday gift list and love supporting entrepreneurs, we have the perfect inspiration for you. Our holiday gift guide features 22 active ventures affiliated with the J. Orin Edson Entrepreneurship + Innovation Institute with gift ideas for everyone on your list.
Gift exciting products from budding entrepreneurs in the Venture Devils program! Venture Devils is open to ASU students, faculty, staff, and community-based entrepreneurs with an affiliation to ASU, and provides them with access to mentors, workshops, networking, funding opportunities like Demo Day, co-working and specialized makerspaces, and more. Click here to learn more about Venture Devils.
Gift that professional woman in your life with the Balance Her Hustle Subscription Box to help her achieve a healthier work-life balance. Boxes include a book and practical products for inspiration and self-care. You can also cancel at any time. See more details on the website!
Canned Goods is a clothing brand providing trendy, sustainable clothing packaged in sustainable ways while removing plastic from our oceans and rivers. Their items make the perfect gifts for the Gen Zs on your list. Check out their website for all their apparel options!
This past Demo Day winning venture is a body-inclusive outerwear and outdoor gear brand impactfully making active living accessible for bigger bodies. Shop their tees and pre-order their hydration vest online!
Crisp U.S. Thrift is a Black & Queer-owned gender-neutral shop offering vintage-forward looks. Shop the dignified collection including tops, bottoms, and more online from this Fall 2022 Demo Day winner!
Melmikay's provides apparel that fuses traditional African prints with a contemporary aesthetic. They even have family collections for those who love to match the entire family! Go to the website to choose which beautiful fabrics suit your loved ones best.
The Molecules Company simplifies high-quality, lifestyle dietary supplements! This Fall 2022 Demo Day winner currently offers their youth molecules and a gift card option on their site. Check it out to learn more about this breakthrough product while crossing another person off your gift list.
Neovida offers a coffee cherry powder and a coffee cherry tea, which make the perfect gifts for the coffee and tea drinkers on your list! Shop and learn more about the personal benefits of their products and how they positively impact farming communities by visiting the website.
Uplighten creates products to help make managing stress a little easier. They put the power of self-care at everyone's fingertips through fun, versatile, and convenient accessories. Find out how to grab these stocking stuffers on their website!
VBAmerica provides volleyball lifestyle apparel for players, coaches, and fans to sport their passion off the court. Explore the extensive collection of apparel and accessories online from this Fall 2022 Demo Day winner!
Shop products for your loved ones from our west valley entrepreneurs! Peoria Forward is a partnership with the City of Peoria designed to transform the future of Peoria and the west valley through entrepreneurship. Peoria Forward connects ASU's existing startup resources with small businesses, entrepreneurs, school districts, city library branches, and other community groups. Click here to learn more about Peoria Forward.
Cafe Emporos creates personalized tea and coffee grams. These make perfect gifts for the tea and coffee lovers in your life who appreciate the unique, sentiment touch. Click on the website to customize your order with personalized photos and text!
Help those on your list get ahead on their skincare amidst this dry winter season by snagging some hand-crafted, holistic skincare products. LoilLife even has stocking stuffers and gift sets for everyone from mothers to babies. Find out more on their website!
Pretty M. White creates handmade coasters and signs and recycles vintage items. They even offer various services including event planning, rental services, and travel planning for those on your gift list! To learn more, check out the website.
Sacred Hats imports hats from traditional Mexican artisans and even offers hand-painted customizations. They have the perfect gift for the fashion forward! Click on their link to scroll through their Instagram and direct message them to purchase.
Spicy Sassy Dulce's has the perfect candies for everyone who loves a good blend of sweet, sour, and spicy! Go to the website to discover all their yummy options or buy gift cards for tasty stocking stuffers.
The mother-daughter duo at Tassels, Poms & Love offers handcrafted items from talented women artisans. Grab vibrant tote bags, tassels, and tumblers on their website for your loved ones this holiday season!
Who doesn't love food? Gift tasty treats with the help of our women and underrepresented minority food entrepreneurs who have completed the Prepped program. Prepped has helped these emerging food businesses scale with free training from experts on food handling, certification preparation, business planning, marketing, and more. Click here to learn more about Prepped.
This veteran-owned business serves made-to-order churro donuts and churro fries with handcrafted ice cream flavors and various toppings like Oreo Crumble, Fruity Pebbles, and many more! Plan to bring out the kid in everyone at the holiday gathering by grabbing their location details from their site.
It's the perfect cookie that fills you up, satisfies your sweet tooth, and doesn't spike your blood sugar! With a variety of healthy options including non-gluten, plant-based, and zero sugar, you can satisfy the health-conscious on your list. Order online or find them at the farmer's market.
The first Puerto Rican food truck in Arizona has expanded to a brick-and-mortar. Buy an eGift card directly on their website for the foodies on your list while you indulge in their mouth-watering food pics!
Sugarloaf Lane Bakery is an all vegan, family-run business that also offers gluten-friendly pastries. Pro tip: try their delicious brownies and scones! Peep the website to see which of the 19 coffee shops and eateries around the valley you'll visit to pick up these goodies for gifts.
OTHER COMMUNITY BUSINESSES
Here are other wonderful Arizona local entrepreneurs that have collaborated with E+I through our physical spaces and programming. They have great shopping opportunities to cross those last folks off your shopping list!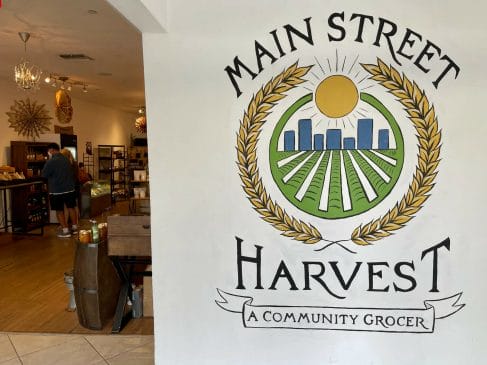 This Phoenix-based, Chicana artist creates colorful drawings of places around the valley! Shop the beautifully, eye-catching collection of postcards and prints online or submit a custom request on the commissions tab for an extra thoughtful gift.
Main Street Harvest is Downtown Mesa's local grocer made up of 90+ regular grocery vendors. Shop in person or shop online for in-store pickup. They are also hosting their annual Holiday Markets from Tuesday, December 20th – Friday, December 23rd featuring an additional 18 local entrepreneurs with exciting products from jewelry to crayons to home decor and everything in between!
Shop original artwork that speaks to the soul with Undefined Art! You'll find beautiful, vibrant canvas pieces of art featuring Minnie Mouse, Dr. Martin Luther King Jr., and more available for purchase directly on the site.
Arizona State University does not endorse any products or services, but ASU hopes to make it easier for everyone to invest their holiday spending back into our community. Purchasing from a small, local business is one of the best ways to build stronger local communities. We are proud of those that make up our amazing entrepreneurial ecosystem.