Name:
Where's Waffle
Owners:
Dustin and Elizabeth
What is your company's name and what do you make? 
It all started in Eugene, Oregon, where we first discovered Liege waffles. We became obsessed and spent the next 6 years developing and tweaking the recipe for the best waffles you've ever had. We hand-make our dough from scratch using the best ingredients. It's a three hour mixing, resting, and rising process for one batch of the sweet waffles. We began making & selling our product in 2013 out of Songbird Coffee's kitchen where we made our first friends and fans. Now we have a trailer for outdoor catering and mobile gigs.
Do you have a specialty such as a signature dish, drink, or item?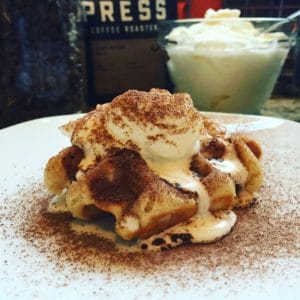 Yes waffles:
-Traditional liege
this waffle may be plain, but it's not ordinary.
-Blueberry lemon
a classic flavor combo, in waffle form.
-Banana rum
subtly sweet, spicy, and creamy
Toppings
  -maple whipped cream: like a fluffier version of syrup -molasses whipped cream: a rich, complex sweetness -homemade apple butter: jonagold apples, cinnamon, simmered to a smooth classic -blueberry cardamom drizzle: the bluest syrup ever
Tell us about yourself!
Dustin: "I am eccentric, and obsessed with waffles, music, theatre, and technology. Spent 6 years on a waffle recipe, just so you can reap the sweet rewards. Elizabeth: "I am a classically trained composer by day, and waffle-slinger by… also day. Or anytime, really. Huge fan of Star Trek and weird, noisy music."
Where's Waffle's Website:
http://www.whereswaffle.at
Where's Waffle's Facebook:                                                                                                            
http://facebook.com/whereswaffleaz
Where's Waffle's Twitter Handle:
@whereswaffleat
Check out this Phoenix Business Journal Article for more:                      
http://www.bizjournals.com/phoenix/news/2016/10/03/this-phoenix-area-startup-not-waffling-around-with.html