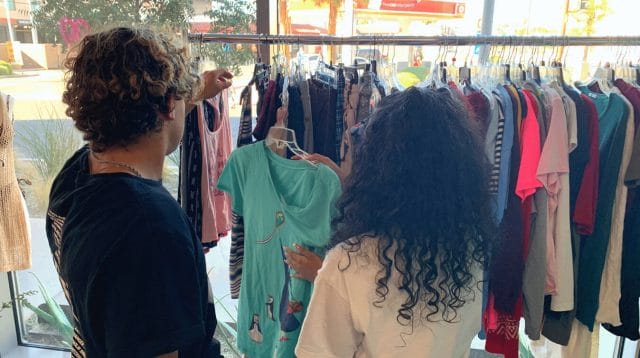 Guest Author Ryan McElhinney is the Co-Founder of Student-Made. ASU joined the Student-Made network in Fall 2023.
Retail can serve as a powerful driver of placemaking and community development. There are a variety of opportunities for the ASU community to get involved with retail opportunities, available directly through our programs or offered by our partners. Here are some of the unique ways our partners and team members add value to the ASU community through student-focused retail.
ASU has been the nation's leader in innovation for eight years running, based on its innovative improvements toward curriculum, faculty, students, campus life, technology and facilities. As one of the Co-Founders of Student-Made, an entrepreneurship program and e-commerce platform coming soon at ASU, this culture of innovation is one of the many reasons I'm excited about our upcoming launch. The two major parts of our program are a campus-customized e-commerce site and a physical pop-up shop presence enabling students from across campus to sell their hand-made products, promote service businesses, and learn from one another's journeys.
One of my favorite things about our platform is watching how it becomes immersed in various campus cultures. A staple of our program culture is diversity among our student-business owners and the manager teams who are dedicated to their success.
The diversity of ethnicity, culture and ideas that we treasure so much about Student-Made is a major contributor to our success. This success is not only in sales performance, but also in another key area—a sense of community. As our platform operates in the fertile grounds for diversity that universities often provide, we benefit from an immense retail strategy that we may not have even viewed as a strategy before.
The importance of celebrating inclusivity 
Upon researching inclusive growth and community impact through retail strategy, I felt so fortunate that our program naturally aligns with many of the findings, and I am feeling especially optimistic about our success at ASU.
Storm5, a RetailTech talent-placement firm, defines inclusivity as "how we treat diverse individuals. Being inclusive means not excluding people based on factors like their race or gender. It also means ensuring diverse individuals feel welcomed."
Their article, "How Tech Innovation Can Promote Inclusive Retail", recommends marketing campaigns that celebrate diversity and foster a sense of belonging for minority groups. The same goes for the products the organization offers.
Our brand's culture of inclusion and celebration of unique backgrounds allows us to constantly feel optimistic about meeting these standards on each of our campuses—and ASU will certainly be a continuation of that. Student-Made welcomes students of all ethnicities, cultural backgrounds, majors, or experiences. We promote our student creators and their unique stories through our social media channels and websites. We highlight who made each of the products, how they were made, and the creator's inspiration behind each one.
This transparency continues to grow in importance today, as millennials are more likely to choose a brand if it "had demonstrated inclusion and diversity in its promotions and offers (70%), its product range (68%), and its in-store experience (66%)." 
We know this trend only steepens with Gen Z, born in the mid-90s to mid-2000s, and this demographic combined with millennials now makes up as much as 50% of the total US population and 60% of the US minority population. 
In addition to the demand for a focus on diversity and inclusion, there is also a demand for "transparency, vulnerability, and honesty" from brands, which means that maintaining a diverse, inclusive, and transparent brand image is imperative. Our creators and managers will reflect ASU's diverse student demographics, which is not only important for their visibility, but can also bring tangible benefits as well.
A 2013 Harvard Business Review article shares that companies with diverse management are 70% more likely to enter and capture new markets because a diversity of thought leads to a diversity of problem-solving ideas. At Student-Made, we're proud to say that over 80% of entrepreneurs and over 95% of managers identify as women. Our executive team is 75% women (I'm the odd one out here!). We hope to continue boosting this percentage of bold, risk-taking, creative female entrepreneurs taking their passions to more than just a side hobby.
Inclusive growth is undoubtedly a reality for the future of Student-Made and universities we partner with like ASU. Its benefits are seen in the strong sense of community we've forged across several campuses—although community impact reaches far beyond just our program.
Evaluating community retail success
Economic development consulting firm Camoin Associates lists several significant factors in evaluating a community's retail landscape. Two of the primary factors were providing equitable opportunities for culturally relevant products and creating a compelling sense of place. 
Equitable Opportunities for Culturally Relevant Goods and Services 
Amir Harris, HGU Apparel
With such a diverse student population, we expect several student businesses to represent a specific culture as part of the goods and services they sell. Economic developers aim to keep these kinds of unique products coming from minority-owned businesses, rather than big national brands.
ASU Technological Entrepreneurship and Management graduate Amir Harris, founder of HGU Apparel, helped spark the idea for Retail Devils. "There aren't many areas where students can witness their customers interacting with their product without bias," he said. 
"Validating a concept and gaining customer feedback in a retail environment can be the most challenging part of entrepreneurship as a student. I underestimated entering this retail space, however, it has been the reason so many more of my endeavors have come to fruition. Never underestimate the significance of the stage in which your idea can be presented."  
Placemaking 
Creating a compelling sense of place plays a significant role in retailers' ability to capture customers. According to the Project for Public Spaces, "Strengthening the connection between people and the places they share, placemaking refers to a collaborative process by which we can shape our public realm in order to maximize shared value. Placemaking… (pays) particular attention to the physical, cultural, and social identities that define a place and support its ongoing evolution."
Pop-up shops representing small businesses are one retail strategy that promotes placemaking. One of our campuses recently made $3,000 in sales through a pop-up event. Aside from the enormous sales potential it presents, this event also serves as a welcoming hub for all things creative, fun, supportive, and inclusive on a campus.
At ASU, students from the Fashion Retail Management Course partner with Edson E+I to operate a swap shop called Fusion on First. "Shoppers can come without any money, just bringing their unwanted fashion items to swap for new-to-them items," said Danielle Testa, Assistant Professor in the School of Art. "Student fashion buyers assess the value of donated items to provide shoppers with vouchers that can be used to purchase new items. It is a great way to go shopping when on a tight budget, but also engage with other students and community members! It has been really fun to watch shoppers engage, asking other shoppers what they think of a top or accessory." 
The pop-up shop has involved a diverse intersection of the ASU community and friends of the community. The shop is located on the downtown Phoenix campus and will be open again this Spring.
By providing a beacon of creativity, expression, and inclusion through placemaking, students feel more at home on their campus. These events often turn into more of a celebration than a storefront. Students across all majors, years, backgrounds, and experience levels are having fun and succeeding collectively, and who can't help but feel attached to that kind of place? 
We are looking forward to the novel approaches that the team comes up with at ASU to incorporate the Student-Made marketplace into their entrepreneurship journey!
Participate in Retail Devils
You may already know about the Venture Devils program, which supports students, alumni, faculty, staff and community entrepreneurs in developing viable businesses, nonprofits and enterprises. As a Venture Devil, you are provided access to mentors, workshops, networking, funding opportunities, workspaces and more. Within this program, founders are also invited to participate in the Retail Devils experience. Retail Devils is designed for ventures with product-based and consumer-goods businesses interested in entering or expanding their presence in the retail space and leveraging exciting customer discovery and sales opportunities.
Retail Devils was first created after a student founder with an apparel company communicated a need for more opportunities to partner with the Sun Devil marketplaces and have student-created retail on campus. At Edson E+I, we are proud to offer both the Retail Devils experience and the new Student-Made at ASU marketplace in response to the needs of our ventures and creators who have physical products.  
To participate in the Retail Devils experience, first apply to Venture Devils. More information about the program is available on our website.  If you have questions about the Retail Devils experience, email [email protected] for more info.  
Student-Made at ASU will be launching mid-fall 2023. To learn more about this marketplace and how you can be a creator, visit studentmadeasu.com.