In today's rapidly evolving digital landscape, social media has become an indispensable tool for entrepreneurs to connect with their target audience, build brand awareness and drive business growth. But the true value of social media extends far beyond what some refer to as 'vanity metrics' such as likes and follows. 
By taking advantage of the benefits of social media, entrepreneurs can leverage various platforms throughout the different stages of their journey. Your unique needs as a business owner can reveal compelling reasons for the platforms and engagement strategies you use.
Here are a few tips to help you make the most out of your social media efforts.
Harnessing the power of social media for community building: the #yesphx case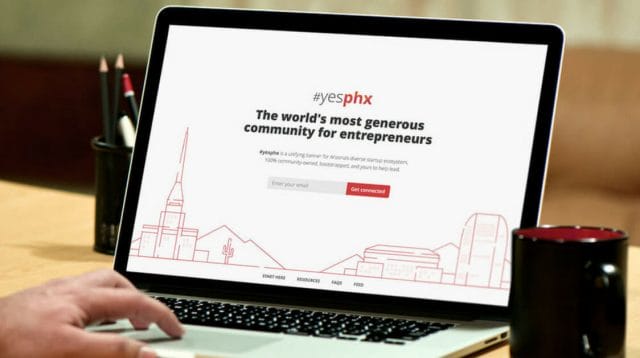 First, let's consider an illustrative example:
#yesphx is a volunteer-led community initiative that amplifies the startup ecosystem in Greater Phoenix, Arizona. Through social media initiatives first launched in 2014, #yesphx has cultivated a dynamic community of founders, entrepreneurs, investors and supporters. They have effectively utilized the brand hashtag, along with social media platforms like Twitter, Instagram, Facebook, Slack, LinkedIn (and as of late, even the new app from Meta, Threads) to create awareness about local startups, promote events and engage the community in supporting homegrown ventures. Entrepreneurs can take a page from the #yesphx playbook on how to effectively leverage social media for community-building and ecosystem advocacy.
And taking a cue from the J. Orin Edson Entrepreneurship + Innovation Institute at Arizona State University, entrepreneurs should view social media not just as a platform for broadcasting messages, but also as a tool for connecting with the right resources – whether that's potential customers, partners or influencers in their industry. Edson E+I Institute emphasizes the importance of connecting with the right resources and people to turn ideas into reality, a principle that is equally applicable to social media.
Making Social Media Less of a Chore
Managing social media can often feel overwhelming, particularly for entrepreneurs who are juggling multiple responsibilities and whose expertise doesn't lie in content marketing, identifying target audiences, performance metrics and the like.
But by adopting a manageable approach for this all-important piece of their business, entrepreneurs can make social media less of a burden and more of a valuable asset ("Do I HAVE to do this?" versus  "I can't WAIT to do this!"). 
Here are a few key tips:
Set Clear Goals:

Define your objectives, whether it's increasing brand awareness, driving website traffic or generating leads. This will help you stay focused and measure the effectiveness of your social media campaigns.

Plan and Schedule Content:

Develop a content calendar that outlines your posting schedule. Utilize social media management tools like

Later

or

Buffer

to schedule posts in advance, ensuring consistent and timely content delivery.

Engage with Your Audience:

Building meaningful relationships with your followers is crucial. Respond to comments, direct messages and mentions promptly. Encourage conversations, ask questions and actively listen to your audience's feedback.
The Edson E+I Institute provides resources for training and development, funding, collaboration spaces and mentorship opportunities. These resources can be mirrored in a social media context:
Just as Edson E+I provides articles, videos, and self-guided lessons to build entrepreneurial skills, entrepreneurs can use social media to educate themselves and their audience. They can share informative content, follow industry leaders for insights and participate in online webinars or live sessions.
Edson E+I Institute offers opportunities for ideation funding, startup funding and venture funding. Similarly, entrepreneurs can use social media to find funding opportunities, pitch their ideas to potential investors and even run crowdfunding campaigns.
Edson E+I Institute provides spaces for collaboration, events, and even building a prototype  across ASU and local communities. On social media, entrepreneurs can create virtual collaboration spaces by starting discussions, hosting virtual events or creating groups on platforms like LinkedIn or Facebook.
Edson E+I's Venture Devils program connects entrepreneurs with Venture Mentors who provide regular, ongoing support. Entrepreneurs can seek similar mentorship opportunities on social media by connecting with experienced professionals in their industry.
Leveraging Social Media Throughout the Entrepreneurial Journey
Social media can play a vital role at every stage of an entrepreneur's journey, from ideation to growth and beyond. Here's how entrepreneurs can effectively use social media platforms during each stage:
Idea Generation and Validation

Use social media to share your entrepreneurial journey, ideas and thoughts. Platforms like LinkedIn and X (formerly Twitter) can help you connect with like-minded individuals, industry experts and potential collaborators.

Brand Building and Launch

Prioritize platforms like Instagram, Facebook and X (formerly Twitter) to establish your brand presence. Share valuable content, showcase your products or services and engage with your target audience. Utilize targeted advertising campaigns to reach a wider audience and drive traffic to your website or launch event.

Customer Acquisition and Retention

Leverage social media platforms such as Facebook and Instagram to run targeted ads, direct traffic to landing pages and generate leads. Additionally, utilize email marketing integration with social media to nurture customer relationships and foster loyalty.

Thought Leadership and Industry Influence

As your business grows, focus on positioning yourself as a thought leader in your industry. Platforms like LinkedIn and YouTube can be powerful tools for sharing valuable insights, providing educational content and establishing credibility.
Selecting the Best Social Media Platforms For Your Needs
Choosing the right social media platforms is crucial for entrepreneurs. Consider the following factors:
Audience Demographics:

Understand your target audience's characteristics, preferences and behavior to select platforms where they are most active. LinkedIn may be ideal for reaching professionals and B2B clients, while platforms like Instagram and TikTok may cater to a younger demographic.

Content Type:

Different platforms cater to different content formats. Visual-oriented platforms like Instagram and Pinterest are suitable for businesses with visually appealing products or services. YouTube is ideal for video-centric content, while Twitter (now X) allows for real-time updates and engagement.

Industry Relevance:

Research which platforms are most relevant and widely used by businesses in your industry. Analyze where your competitors and industry leaders have a strong presence and consider utilizing those platforms as well.

Platform Features:

Consider the unique features and capabilities offered by each platform. Facebook provides robust advertising tools and detailed audience targeting options, making it suitable for businesses looking to reach a broad consumer base. Platforms like Instagram and Pinterest offer visually appealing and immersive experiences, making them ideal for businesses that rely heavily on visual content.

Analytics and Insights:

Look for platforms that provide comprehensive analytics and insights to measure the effectiveness of your social media efforts. Facebook, Instagram and X (formerly Twitter) offer built-in analytics tools that provide valuable data on engagement, reach and demographics. These insights can help you refine your strategy and optimize your campaigns.
Based on these considerations, here are some platform recommendations for entrepreneurs:
LinkedIn:

Ideal for establishing professional connections, sharing thought leadership content and engaging with industry peers.

Instagram:

Suitable for businesses with visually appealing products or services, allowing you to showcase your offerings through high-quality images and videos.

TikTok:

A popular platform for creative and engaging short-form videos, TikTok can provide entrepreneurs with an opportunity to showcase their products or services in a unique and entertaining way, particularly when targeting younger demographics.

YouTube:

Perfect for sharing video-centric content, such as tutorials, product demos or educational videos.
And maybe even consider exploring Pinterest, as it offers a visually oriented platform where users actively search for inspiration and ideas. It can be a great fit for businesses in industries such as home decor, fashion, DIY, food and lifestyle, allowing entrepreneurs to share visually appealing content and drive traffic to their websites or blogs through carefully crafted pins and boards.
Embracing the Power of Social Media
Social media platforms hold immense potential for entrepreneurs seeking to establish a strong online presence, connect with their target audience and drive business growth. By strategically selecting platforms, entrepreneurs can leverage the power of social media to effectively showcase their products or services, establish industry expertise and engage with their audience in meaningful ways.
Embrace the diversity of platforms available, experiment with different content formats and stay attuned to your audience's preferences to make the most out of your social media presence.
Entrepreneurs can also use social media as a tool for continuous learning and development, seeking funding opportunities, creating collaboration spaces and finding mentorship. 
Edson E+I Institute's approach to fostering entrepreneurship through connection, education, funding, collaboration and mentorship can serve as a valuable guide for entrepreneurs looking to maximize the value of social media for their ventures. If you're ready to plug into the entrepreneurial community at Edson E+I, check out our website.