A valuable lesson in an entrepreneur's journey is the pivot, the willingness to respond to feedback while persistently iterating to meet rapidly changing needs. Sometimes we anticipate how we'll progress down the customer discovery path, at other times, unexpected as illustrated by the COVID pandemic that gave us a crash course. The venture development team at the J. Orin Edson Entrepreneurship + Innovation Institute takes on the entrepreneurial approach in how we evolve support of our ventures by undertaking our own customer discovery; identifying gaps, seeking valuable feedback while leveraging collaborators and resources to create value. With a formidable entrepreneurial community brimming with both possibilities and hefty challenges, understanding what founders need to strengthen outcomes propels and inspires us to meet them on their path.
Addressing Gaps in Stages of Development and Industry Segment
Let's start with how we uncover gaps in venture development which we view from two primary perspectives: venture stage of development and vertical or industry. Stage of development encompasses the gamut, from ideation to being in revenue aiming to scale. We put the venture development lifecycle on proud display with our biannual Venture Devils Demo Day made possible by our generous donors and partners who award seed funding in hopes that these ventures will be lifted up regardless of their stage of development.
We observed that Venture Devils Demo Day seed funding recipients achieved traction hitting key milestones with their product or service yet many still had the ultimate validation of paying customers to be realized. Addressing this gap meant the deployment of resources to effectively operationalize their venture into a go-to-market strategy that led to acquiring first customers. Usher in Venture Devils+, an application-based, mentor-led, intensive program matching expertise with the ventures to drive solid go-to-market outcomes. The result? More ventures such as 2 Million Blossoms and Café Emporos landing solid revenue streams highlighted in a previous blog.
Beyond foundational entrepreneurship, keying in on how different industries call for unique approaches that alleviate gaps, a pertinent element to successful market integration driving robust results. As an example, the increased entrepreneurial activity of MedTech ventures requires specific expertise to navigate the regulatory environment, FDA approval process (in the case of medical devices), and connectivity to industry. In response, we're building a MedTech/Health Care track paired with the mentorship, training, and opportunities that compel growth in this vital sector supporting ventures such as Efficient Patient Tech led by founder Annabelle Brozek, M.D.
Illustrating our belief that every individual owns an entrepreneurial pathway, we recently launched an Arts/Creative track encompassing literature, visual arts, immersive media, graphic arts, performing arts, and more, emphasizing relationships with ASU's Herberger Institute for Design and the Arts (HIDA), including the new Sydney Poitier New American Film School that will be housed near Edson E+I's innovation space in Downtown Mesa. Arguably, a key ingredient in value creation for our founders lies in our collaborations. Enter Nyasha Stone Sheppard, cross-appointed to Edson E+I and HIDA, building a bridge with our arts/creative founders and contributing to our program track's development alongside Senior Program Manager, Venture Development, Chase Norris, who together host events and spotlight emerging artists as featured in a recent blog post.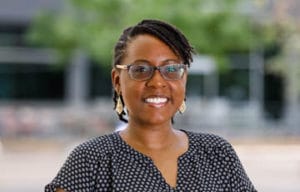 In addition to our growing program tracks under the Venture Devils umbrella (also featuring Retail Devils, Social Impact, Sustainability & the Circular Economy, and Venture Vets) how we approach entrepreneurship ensures our ongoing customer discovery in support of our founders. Undoubtedly, we will continue to identify gaps, build new programs, seek out intersections and partnerships, develop best practices, and fervently raise the bar to give our budding entrepreneurs the best ASU has to offer.