At the J. Orin Edson Entrepreneurship and Innovation Institute, we believe that all artists are naturally entrepreneurial in their craft. Artists produce, create, compose, and seek opportunities in spaces that others cannot foresee. Much like artists, entrepreneurs explore the possibilities of "what if." Below are five creatives who are participating in the Venture Devils program, transforming their artistic practice into an ongoing business venture.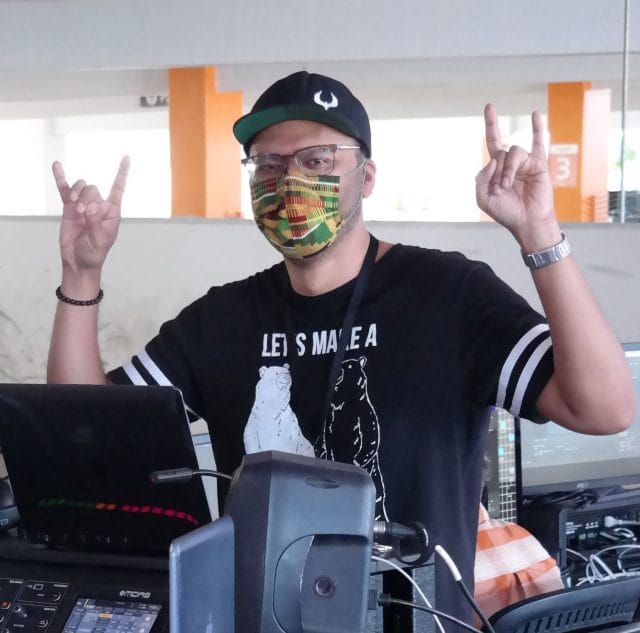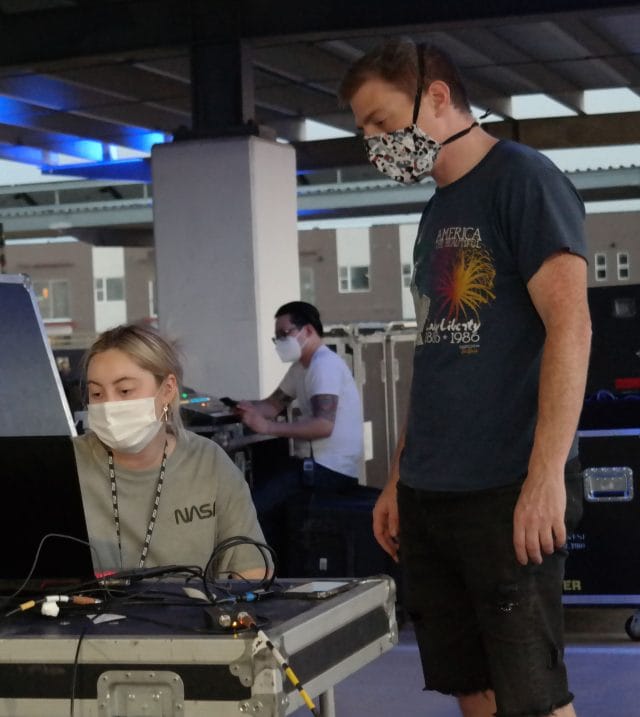 Mixed Universe Dynamics | "designspace" | Shomit, Lauren and Matthew
Hemley Gallery of Fine Art (Virtual Gallery) | Jonathan Hemley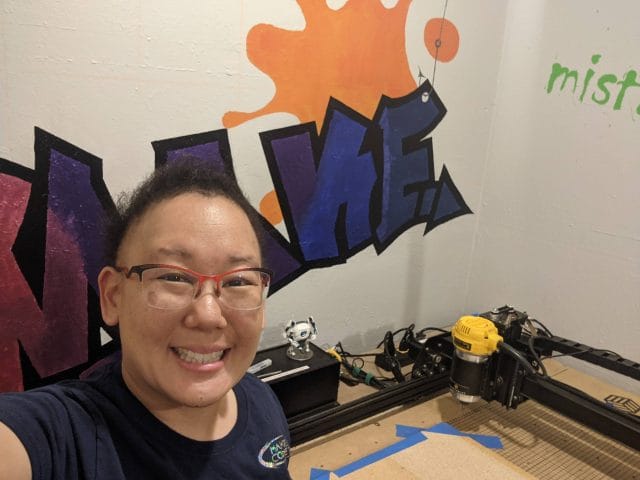 Maker Comet | Jennifer Rei Cameron
---
We've asked our founders a few questions about the intersection of art and entrepreneurship. Check out what they had to say:
Question: Please describe your venture.
Matt: Mixed Universe Dynamics is a production company for mixed reality, site-specific, narrative experiences. We create installations for mobile phones that fill homes with sparkling magic, 50-foot LED walls that transform cars into star systems, XR volumes for interactive theatre, and more – serving communities, companies, and cohorts big or small. Our work pairs physical and digital elements, weaving them together into moments of magic and surrealism. We create stories and experiences that awaken audiences to new worlds and unforeseen possibilities.
Jonathan: Hemley Gallery of Fine Art is a high-end fine art gallery presented online with virtual reality and in-person audience participation. Our gallery forcefully transmits the experience to the world via cyberspace. This provides convenience for anyone anywhere in the world having this experience from the comfort of their home. They are immersed and almost mesmerized.
Rei: At Maker Comet, we believe that the creative process used in art and making can have a profound impact on how we communicate with others, how we solve problems, and how we empathize with our fellow human beings. We pioneer creative experiences in art and making, providing an opportunity for everyone to boost their creative confidence
---
Question: What inspired you to launch your venture?
Matt: When I was six, I remember taking a mini tape recorder out into the springtime streets of my suburban neighborhood, and narrating the bursting presence of flora and fauna surrounding me; this to be played back in those same streets when cloaked in snow so that the bright ghost of spring could stir amidst the silent cold. Building worlds, mixing digital and physical elements, has been a part of my life before the term XR was ever coined.
As an artist, I began in the theatre, reaching into magics within myself as a performer. Embodying other lives grew into shaping tension through directing, crafting moments as a writer, playing with image through cinematography, culling sound through coded synths, employing stagecraft in 360 films, building interactive sculptures with embedded sensors, and more, finding a unique joy in each creative endeavor. Making XR work was a way to layer these joys together, and understand their existence as the diagram to a greater purpose; broadening the idea of a story to new forms, expanding the state of the human condition to new realities.
Though we come from disparate backgrounds, Shomit, Lauren, and I share a great deal. A willingness to grind through a million permutations of failure, just to achieve the perfect sparkle of particle, or electronic yodel, or movement of limb. An understanding of the need to pivot and play until the shape of an installation settles just so. And a belief that our combined skills can create experiences that thrill and delight in ways yet unknown. It is from these common ambitions and understandings that MUD was born.
Jonathan: My father, Cecil Hemley, helped to found Forum 49 in the 1940s with Weldon Kees in Provincetown before I was born. My father was a writer and Weldon Kees was a writer/artist. Forum 49 became enormously popular and evolved into Abstract Expressionism, the only modern art movement to move from the United States to Europe. My cousin, Adolph Gottlieb, also became part of this movement. Most of my family who were very successful thought of Gottlieb as the family joke or "starving artist". Today, his work sells for millions of dollars. Their work has motivated me to launch the Hemley Gallery of Fine Art.
Rei: I have always been an artist and maker but it wasn't until I became a co-founder of CREATE, the makerspace at Arizona Science Center, that I started to realize that I could actually turn my passions into a career. It was there that I started to feel like we were leading a revolution against the creativity crisis plaguing our country. I saw great value in the efforts we were making in an attempt to get everyone to realize their latent creativity. After departing CREATE, I wanted to continue the important work that we had started but bring it to a wider audience and so Maker Comet was born, January 2020.
---
Q: What are the biggest challenges you've faced as an entrepreneur?
Matt: Our biggest challenge has been getting people who are used to more traditional media ventures to understand the landscape of XR, and the scope of the company's endeavors. Interactive experiences, that respond to the world around them, are the future of art and narrative (and thus marketing, branding, publishing, etc.). Helping others to understand this is a giant obstacle, which we surmount by creating experiences that demonstrate this inevitable truth through self-evidence. In a historically rigid media landscape, our company disrupts the connection of quality to budget with a focus on interdisciplinary innovation.
Jonathan: Working on my own and constantly being criticized while developing my venture. I've learned early on to surround myself with experts, e.g. auction houses organizers, other gallery owners, artists, and more.
Rei: Visibility has been tough. As an artist, both in selling my work and as an instructor, it's difficult to get noticed. I've faced a ton of mental struggles as well, always asking, "Am I doing the right thing?" or "Can I really support myself this way?" As a business owner, you have to wear many hats, which is different than if you were working for someone else. All of a sudden, you are your own marketing, accounting, and social media departments on top of running the day-to-day business. It can be incredibly overwhelming.
---
Question: What advice would you give other founders who are just starting out?
Matt: Put yourself and your community above the idea. Be willing to let go of what isn't working. Believe in yourself, because for the most part, no one else will.
Jonathan: Ignore those that doubt you and do your research! Venture Devils has been an enormously beneficial experience for me. It illustrated why ASU is rated #1 in terms of innovation. The Venture Devils staff works diligently on the program and Wayne Smith is a terrific Venture Mentor. My plan is to move my venture forward into Europe and Asia!
Rei: I think one of the most important things that I can suggest is to have a strong support system, be it your friends or family, your mentor, your partner, or fellow entrepreneurs. There are going to be times when you just want to throw in the towel and you'll need people who believe in you and your cause to keep cheering you on.
---
These creative enterprises within the Venture Devils program embody what it means to 'let your curiosity take flight' and each have a true entrepreneurial spirit. There are a number of resources at ASU for individuals or teams that have ideas that incorporate arts, culture, and creativity. A few of these resources include student groups, degree programs, and initiatives to provide opportunities to gain applied practice in entrepreneurship. If you are interested in starting a business, nonprofit, or creative enterprise check out our upcoming Coffee and Conversations on September 22nd, starting at 10:30 AM. This meetup is designed to create a safe informal space to explore your ideas, learn what others are working on, and discover entrepreneurial opportunities to turn your ideas into a reality.
Blog curated by Chase Norris and Nyasha Stone Sheppard