Veterans Day serves as a reminder of the sacrifices made by our military and it also offers an opportunity to celebrate the resilience and resourcefulness of those veterans who have transitioned into the world of entrepreneurship. These individuals, with their unique determination, bring valuable skills, leadership and a strong work ethic from their service. Whether launching startups or driving innovative ventures that serve their community, veteran entrepreneurs embody the spirit of dedication and innovation. 
For Ian Stellar, Tonya Dawn Recla and Justin Recla and entrepreneurship champion Amber Costa, they combine their military backgrounds and their inspiring journeys into entrepreneurship.
Interview with Tonya Dawn and Justin Recla
Can you briefly describe your military background?
We are both former Army soldiers and counterintelligence agents. Justin's time was spent on the tactical side of the profession and Tonya's was spent on the strategic. We met after service teaching at the Counterintelligence Special Agent Course as government contractors.
How did your military service influence your decision to become an entrepreneur? What motivated you to start your own business?
Military service and entrepreneurship have a lot in common. Both require internal fortitude and a sense of duty to something beyond yourself. After we met, married and had our daughter, Neva, we made the decision to leave government work together and create opportunities that allowed us to be with her full-time. We set out to be corporate trainers from the beginning but took a detour when the entrepreneurial market begged us to use our training to assist in due diligence and vetting business-to-business transactions. We found a viable market quickly once we were able to shift our skillset to accommodate that need. 
What strategies or principles from your military training have you implemented in your business operations, such as planning, logistics, or risk management?
We rely heavily on our military and government training in our business operations. The military decision-making process became the backbone of our corporate counterintelligence and due diligence procedures. Our attention to detail and willingness to do things that make us uncomfortable serve us well in the entrepreneur space. 
Transitioning from military service to entrepreneurship can be challenging. What resources or support networks aided your transition and journey as an entrepreneur?
We were very fortunate to connect into a group called CEO Space International that provided support and encouragement to entrepreneurs and honored veterans. We became due diligence instructors and subject matter experts and got to test our services prior to taking them to a bigger market. The Superpower Network, our collaborative podcast model now ranked in the top 1.5% of podcasts globally, was birthed out of that environment. Mentorship, support, accountability and encouragement are crucial factors in entrepreneurial success. 
As an entrepreneur, what advice would you offer to other military veterans who are considering starting their own businesses or pursuing entrepreneurial endeavors?
Find support. Find others who will walk beside you and are able to reflect back to you their own experiences. Get real about what it's going to take. Embrace your WHY and hold on tightly. And, most of all, the journey isn't easy, but it is worth it. Far beyond business development, the entrepreneurial journey will grow you and, if you let it, take you places you never dreamed you'd go.
Learn more about Tonya Dawn and Justin Recla's venture on their website, Super Power Experts.
Interview with Ian Stellar
Can you briefly describe your military background? 
I served seven years in the Navy. My first three years were spent as an Electrician's Mate in the engineering department aboard CVN 77, USS George Bush aircraft carrier. After that, I went to BUDs (Basic Underwater Demolitions) training and failed during hell week. I suffered from bronchial pneumonia, stress fractures, hypothermia and sipe. That failure haunts me even to this day, 14 years later. I finished my enlistment in Coronado, CA, at a command called SBT 12, which was where I met the greatest leader I ever had the pleasure of serving under: SO Commander (at that time) Stull. 
How did your military service influence your decision to become an entrepreneur and start your own business?
I always intended to leave the military, but I extended my four-year contract because of the 2008 recession. Although I enjoyed my time in the service, I didn't want to exit the military and have to climb some corporate ladder. I wanted a job I loved and I wanted a job that made money. I also didn't want to take orders from anyone. Unfortunately, jobs that fit those parameters don't exist to my knowledge. So, I had no choice but to make one. 
During my last two years in the service, I planned a business concept that didn't exist yet, in the escape room industry. After seven years of planning and preparation, I launched my venture, Solve Who, in downtown San Diego. My engineering training and troubleshooting/problem solving skills were instrumental in building my business. I started Solve Who with one of my best friends and closest people I served with. I wouldn't have met anyone like him without my military networking experiences. 
As an entrepreneur, what advice would you offer to other military veterans who are considering starting their own businesses or pursuing entrepreneurial endeavors?
Don't be impulsive. Plan your idea as much as you possibly can. Obsess over it. I suggest creating a business blueprint and getting as much feedback as you possibly can from people who won't blow smoke. The business blueprint should articulate the day-to-day operations and you should simulate this with your imagination in as much detail as you possibly can. Although you won't catch all the variables, you'll catch more every time you dream about how your business will run.
Read Eric Ries's, The Lean Startup. As you finish it, start building an MVP. If you don't know what that is, learn it. 
You want REAL critical feedback. Don't get mad. Don't take it personally. Get good at graciously accepting feedback because you need it. It's very difficult to keep your cool when your pride and your ego take some hits. Remove your ego from the equation. I cannot stress that enough. 
Lastly, business creation takes a lot of time, sacrifice and resources. You need to prepare, especially mentally, for suffering, loneliness and hardship. Surround yourself ONLY with people who will help you or support you in your goal(s). Remove the naysayers, doubters and haters from your life. I cannot tell you how liberating it feels to distance yourself from those negative influences.
After closing Solve Who, due to the Covid 19 shutdown in California, I'm now passionate about and pursuing my next venture Krampus VS Christmas, or KvsC for short. KvsC is a massive production, so it will be another year before I can finish funding it properly. Keep an eye out for the most exhilarating holiday event to ever come about! 
Connect with Ian and follow his journey to build out Krampus vs. Christmas on his website or on Instagram.
Interview with Amber Costa
Can you briefly describe your military background as well as your current role in both the City of Peoria and as an entrepreneur?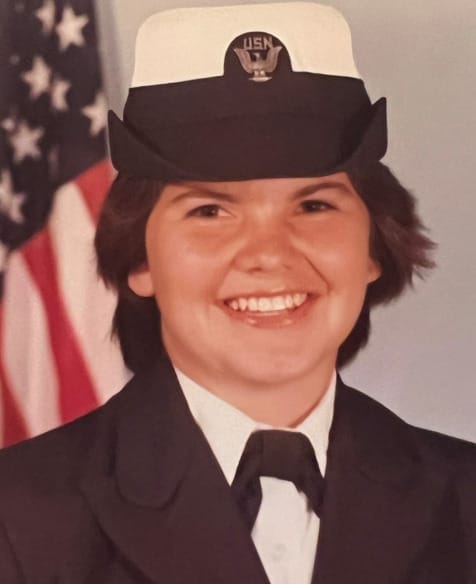 Amber Costa during her time in the Navy
I served five years active duty (two inactive) in the United State Navy. My overseas duty was spent in Misawa Japan, the northernmost part of the main island. My main role was working in computer operations – keeping mainframe servers up and running. When I got out of the military, I landed a job with a start-up company called Alldata Corporation. I was the 8th employee to be hired and ended up working there over 11 years. I helped the company grow until they went public and they were purchased by Autozone! It was my military experience that landed me the job, but my time working for a start-up company is where my appreciation for entrepreneurship really grew – recognizing a need and finding a solution to that need. It felt amazing to be part of that journey.
Fast forward, I am now working with the city of Peoria and managing contracts. When the Peoria Forward program came about, I already had a level of comfort working with and as an entrepreneur. As an entrepreneur myself, I can better understand the challenges many of our entrepreneurs face with state or local government policies. My role at the city enables me to help entrepreneurs navigate city services as well as introduce them to the growing ecosystem and wealth of resources in Peoria and the greater west valley.
How did your military service influence your decision to become an entrepreneur and support entrepreneurs in your work with the city? What motivated you to start your own business?
I believe I have always had a love of entrepreneurship. I learned very early from watching my parents and grandparents that you don't need to work for someone to make money. My time in the military reinforced that because so many service members had 'side hustles' in addition to their day job. For me, I was drawn to entrepreneurship as a way to share my love of photography. I love capturing moments in time. Whether it's kids, pets, families, weddings, to be able to capture a feeling in that moment and then share that with my subjects, that's priceless. 
As far as the support I am able to provide while working for the city, that is in large part because the city has embraced the Peoria Forward program and the partnership we have with ASU's E+I Institute. There has been tremendous support internally among many departments to work collaboratively, help identify needs within the entrepreneurial community and then be part of the planning and support that is needed to keep Peoria Forward moving forward. It takes a village to keep everyone embracing the programming and participating in the planning, execution and the celebrations.
The military prioritizes teamwork. How have you used your military teamwork and leadership skills in both your business and your role as serving entrepreneurs at the City of Peoria? 
Amber Costa with local Peoria business, Oso Consulting
The military does place a strong emphasis on teamwork. I believe very strongly that these same concepts should be applied to entrepreneurship, especially when starting or running your own business. The journey of entrepreneurship can be very bumpy, stressful and lonely, but there is a wealth of resources that can offer guidance and support along the way. 
One example of when I had to draw on the teamwork and leadership skills I learned in the military was when programming the PopUp Peoria space, a public and private partnership where we had multiple parties we were working with. We had a contract, but when the chosen space fell through, rather than giving up, I persisted, encouraged all parties to find solutions, and remained flexible. It resulted in the successful realization of our PopUp space goal.
As an entrepreneur, what advice would you offer to other military veterans who are considering starting their own businesses or pursuing entrepreneurial endeavors?
I would tell them to do it! But don't think they have to do it alone. There are so many resources that offer a wide variety of assistance to entrepreneurs at every stage of growth. It's important to find your community and be active in the community. Find mentors and support systems, and don't be afraid to make mistakes and celebrate along the way.
Why did you choose to pursue your current role with the City of Peoria after your time in the military?
I went into local government as a way to give back to the community. I care about the community I serve and I care about the businesses that make up the fabric of what Peoria is. I love being part of a program that provides support, resources and on-ramps at various stages of growth to help entrepreneurs realize their dreams. 
Find the resources you need to launch your business
To connect with people building new businesses or exploring entrepreneurship, visit Edson E+I Institute's events page to get plugged into a vibrant community. If you are a Veteran entrepreneur, there are many invaluable resources, guidance and support available. Explore a list of resources tailored for veteran entrepreneurs and get inspired to use the power of innovation to build a thriving business.
If you have a dream, your skills and determination are your greatest assets. Take that next step and turn your vision into a reality, we're here to help!