In the heart of Downtown Phoenix– specifically located at the corner of 1st Avenue and Fillmore St, nearly 550 Sun Devils have a new home.
Opened in Fall of 2021, Fusion on First includes 13 floors of apartment-style residential community, above a three-story high-tech innovation hub for the arts geared towards such academic programs as design, popular music, and fashion. With coworking space and guest Entrepreneurs-In-Residence visiting throughout the academic year, the Fusion on First experience is built with collaboration, entrepreneurship and community in mind.
To learn more about the Fusion on First experience from two of its first residents, who are also entrepreneurial student leaders as members of the Entrepreneurship Catalyst team, we've asked them to share a bit about their experience in the space so far:
Halle is a Junior studying Political Science and Public Service & Policy. Lance is a Senior studying Community Health and Health Entrepreneurship & Innovation with a Certificate in Cross-Sector Leadership
What does an entrepreneurial community mean to you?
Halle: To me, an entrepreneurial community means being able to have the opportunity to develop my ideas with the support of others. Knowing that if I am passionate about coming up with a solution that I would like to develop further, I know that I have the full support of other staff and students in my community who will give me the resources I need to succeed.
Lance: An entrepreneurial community to me means a community where creative problem solving can flourish and where everyone can all have the support needed to make creative solutions happen.
Fusion on First is an apartment community that is embedded in a setting that connects students organically with the regional business community and with key resources supporting creative ventures among students, faculty, alumni and local artists, businesses and government agencies. Why is this exciting to you as a student?
Halle: Fusion on First is especially exciting to me as a student because it brings so many more opportunities outside of the classroom to use my and others' previous experiences to develop something special. I really plan to take advantage of my time here at Fusion on First to connect with other students and the surrounding community.
Lance: This is exciting for me as it allows me to live in an environment where I can explore various resources that are usually not available to me or what was not so easy for me to access in the past.
You can live a lot of places; what made you decide to be a part of the Fusion on First community?
Halle: When I saw that ASU was building an apartment community that would emphasize connecting students with resources and opportunities to pursue creative ventures, I immediately knew I wanted to become a part of this community. Fusion on First is also on the ASU Downtown Phoenix which is also a benefit as we are in the heart of the city of Phoenix.
Lance: I chose to live in the Fusion on First community because it is a vibrant new community with lots of potential to grow in.
What do you like most about living at Fusion on First?
Halle: The thing that I like the most about living at Fusion on First is being a part of such a diverse community. All students and staff members have different degree programs and interests that make the community so unique and innovative. I have also met many people living at Fusion at First, which has also made it such a great experience so far.
Lance: I love the apartment-style living that is so close to campus and has areas on the building to socialize and study in.
What is a memory from this first semester about your residential experience?
Halle: Attending the Karaoke and Bracelet-making event earlier this semester. This experience was fun for me as we could hear people sing and do other activities in the Flip Kitchen. I was able to meet many new people who lived in my building as well, making it an overall great experience.
Lance: One memory that I had this first semester was the first day I moved in where I got to meet and connect with my roommates and learn more about them.
What theme area (health/wellness, arts & performance, global village, social embeddedness, communication/media) are you most interested in and why?
Halle: I am most interested in the social embeddedness theme area, as connecting communities through partnerships is essential in advancing societal goals and making improvements.
Lance: Personally, I love all themes presented in the community because it is all aspects of myself that I have explored through my education, friendships, work environments, and clubs, but if I had to pick one, It would have to be health and wellness. I love this theme because health is ever-present in our lives and we all are affected by our health and wellness, so being able to deeply understand that and learn to improve on it can help improve our quality of life.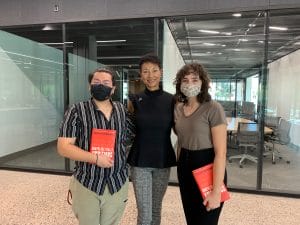 Earlier this semester, Lance was able to co host an event featuring visiting Entrepreneur in Residence, Shellye Archambeau, author of Unapologetically Ambitious. This was one of the many highlights of his Fusion on First experience. As Lance explains:
It was so exciting to meet such a wonderful entrepreneur and take the time to learn from her experience and incorporate it into my own life.

[Having intimate conversations in Fusion on First] allows us to see a side of entrepreneurship that is not usually expressed in normal speaking events such as being able to ask for advice about self-reassurance and seeing the struggles of being an entrepreneur outside of the realms of business and idea creation.
Regular events and activities are hosted in the Fusion on First space for the ASU community. We hope to see you at a future event. To learn more about the opportunity to live at the Fusion on First residential community, visit the ASU Housing page.
To connect more with Halle or Lance regarding their ASU experience and all things entrepreneurship, schedule a Catalyst meeting to have a more personal conversation.