Faculty members have a unique opportunity to directly impact the futures of the students they work with, and ASU is proud to be home to such a passionate community of scholars and mentors. We know that being one of the largest public universities in the nation offers tremendous benefits to faculty and students alike, but it can also add a challenging layer to finding specific programs and resources.
The start of the semester is coming up soon and with it, new students, new ideas and new questions. Imagine you have a bright student full of creative ideas that comes to you asking for help bringing their ideas to life. This student is looking for tools, mentorship, resources, the whole enchilada. Well, the Edson Entrepreneurship + Innovation Institute has all the ingredients to help that student make that enchilada and this blog post is the recipe. Faculty can use this as a starting point to connecting students to entrepreneurship and innovation opportunities at ASU.
What is the J. Orin Edson Entrepreneurship + Innovation Institute?
We connect students, faculty, staff and the broader community to information, resources and people that can help turn their ideas into reality. We provide a wide variety of opportunities to explore, share, test and advance ideas.
"Our goal is to support entrepreneurs for life. It requires that we seek to develop the whole person, to empower everyone to do good while doing well; to build a life, while making a living building products and providing services that bring value to society."
– Ji Mi Choi, founding executive director of the Edson Entrepreneurship + Innovation Institute and vice president of ASU Knowledge Enterprise
Read this ASU News article to learn about the Institute's history and watch this video to hear from students about their experience pursuing an idea and how the Institute helped guide them along their journey.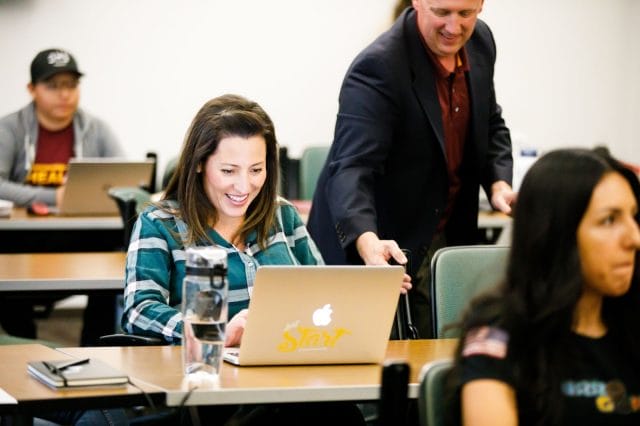 Why should I refer students to the Edson Entrepreneurship + Innovation Institute?
There are lots of reasons that can be listed here, but take it from fellow faculty member Rick Hall PhD, Senior Director of Health Innovation, Edson College of Nursing and Health Innovation who says:
"I refer students to the J. Orin Edson Entrepreneurship + Innovation Institute because that is where the best resources are. In addition to funding opportunities, the institute works alongside our student startups with highly professional staff, subject matter experts and world-class mentors. Entrepreneurship doesn't have to be a lonely journey; ASU has the support systems and people to accelerate student ideas to market – and the Edson Entrepreneurship + Innovation Institute makes access to these resources seamless."
What if I have a student that's interested in entrepreneurship and innovation but doesn't know where to start?
Encourage them to start by downloading the Just Start Guidebook. This downloadable resource helps deepen your understanding of entrepreneurship and how anyone can cultivate an entrepreneurial mindset. The book includes information about how to develop and execute an idea, and activities to help readers reflect on their ideas and set specific goals
Another great starting point for students is ASU Launch Days, which encourages students from all majors to live and think entrepreneurially. Throughout September and February, the Edson Entrepreneurship + Innovation Institute hosts a series of events for ASU students, concluding with Open Pitch Week, where students can pitch an idea in two minutes to compete for a $250 crowd favorite prize, selected by their peers.
You can also invite an Edson Entrepreneurship + Innovation Institute team member to share a Launch Days presentation with your class. This could include a chance for students to ask questions about entrepreneurship at ASU and participate in an interactive activity to get them thinking entrepreneurially.
What if I have a student that has an idea and is looking for guidance about what to do next?
For peer support and mentorship, students can reach out to an Entrepreneurship Catalyst. Entrepreneurship Catalysts are current students that act as peer mentors and champions for ASU students who are seeking to engage with entrepreneurship opportunities. Catalysts can help students connect with entrepreneurship and innovation resources and opportunities at ASU, and offer coaching and feedback to develop their ideas. Encourage students to schedule a one on one appointment with a Catalyst for specific, relevant support to help fulfill their entrepreneurial dreams.