Objectives
By the end of this post, you will be able to:
Understand the value of organic social media tools
Understand the role of social media in driving sales
Baseline current social media strategy and activity
Identify next steps for learning specific social media strategies and tactics
Social media was initially built to share pictures of our pets and stay connected with our friends but it has increasingly become an essential part of how businesses are driving sales. We have all undoubtedly noticed the dramatic increase of ads mixed in with Instagram posts and lining the sidebars of Facebook. This is not surprising considering that more people than ever are now on social media and spending more time than ever scrolling, clicking and posting. However, paid advertising is only one of the many tools available to businesses and it can be the most expensive.
For most small business and entrepreneurs, it is best to start with "organic" engagement. Social media platforms are optimized to keep users engaged for as long as possible. Their algorithms (complex codes that control the ordering and presentation of content) are designed to make a user's experience match their interests as closely as possible. With this in mind, many businesses have adopted a "content marketing strategy" which tailors normal social media posts as closely as possible to the interests of their customer base while maintaining a careful balance between relevant content (something customers naturally would want to read, share and engage with) and marketing objectives (making a sale!). Below are some great examples that strike a good balance:
While these posts are great examples of content marketing, they are unlikely to result in a flood of sales just by themselves. Social media is most effective when part of a more comprehensive, more strategic approach known as a "sales funnel." This approach starts with the notion that the basis for any sale is meeting a customer's needs (i.e. "You're sleepy? Buy a coffee from me!). It then lay's out steps that move a potential customer along progressive stages from awareness of your product all the way to making a purchase. The most basic iteration of this concept is sometimes referred to as the AIDA-model and has four stages:
Awareness: the customer becomes aware of the existence of your product or service
Interest: the customer likes your product or service enough to research further
Decision (Desire): the customer changes from liking to wanting your product or service
Action: the customer actually purchases the product or service
A great marketing strategy has specific tactics to address each stage of the sales funnel to ensure as many potential customers as possible reach the Action stage and make a purchase. Neglecting any of the stages creates a hole in the funnel through which potential customers disengage with your business. Holes in the sales funnel weaken the entire strategy because no single element is strong enough to drive sales by itself.
Similarly, a great social media strategy has specific tactics to address each stage of the sales funnel and complement other marketing tools like emails, websites, and loyalty programs.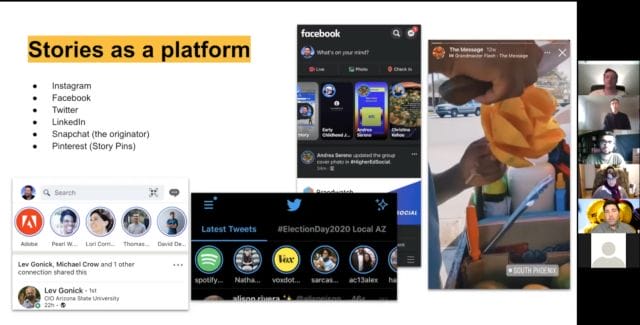 Which organic social media tools are best for each stage and how can you use them effectively? Get answers to this and learn about building a holistic social media strategy from an expert at the upcoming Peoria Forward virtual event featuring Vincent Orleck, Social Media Manager at Arizona State University.
Special guest, Kathy Cano-Murillo aka the Crafty Chica, joins for the Roundtable discussion at the end to share her 20 years of experience using social media to connect with her customers, test new product ideas and grow her business.
Some of the great takeaways from the event include:
Set goals, create a plan and follow a strategy; SMART
Your goals will determine which social media features, tools and metrics are appropriate
Rather than choose a platform because it is popular, choose the best fit to reach your intended audience, then revisit/modify/add
Take a social media marketing mix approach which combines the power of platform engagement, content marketing, and google analytics to connect with your audience and drive conversion
Before you can dive into creating a great new social media strategy to fill your funnel, you need to first take stock of how your business currently uses social media to ensure you don't have any holes that waste time and resources. This will help you stay organized, highlight areas for improvement and create a baseline to gauge your new strategy's performance. Work through the prompts below and feel free to record your answers in whatever format you find useful. Keep the information in an accessible but secure place.
Gather all the information about your social media accounts
Create a list of each social media platform and account that your business uses. Even if you have not logged in for a while, include every currently active account. It can also be beneficial to quickly Google your company name to see if any additional social media accounts appear that may have been forgotten or created without authorization.
Record the log-in credentials (username and password) as well as the account recovery information (email address or phone number) for each account.
Record all authorized users of each account.
If you have ever previously recorded any social media guidelines, procedures or goals, include that information here.
*Tip: Make sure log-in credentials and recovery information is up-to-date and secure. Log-in credentials should regularly be changed for security purposes, especially after a user is deauthorized or otherwise leaves the business. Updated recovery information is vital to prevent accidental loss of access.
Determine how you are currently using your social media channels
Review the profile section of each account and note if it has been filled out fully and is currently accurate. This includes bios, contact information, hours of operation and links.
Review profile images and banner images and note if they are "on-brand" or accurately representing your current logos and preferred images.
Review your recent business social media account activity (posts, messages, comments, shares etc.) and note the current use categories overall. This could include uses like customer service, marketing/promotional, engaging with customers, personal use etc.
Review your recent business social media account posts and shares to note the type of content categories used overall. This could include images, video, text etc. Also, note if there appear to be any themes to the content (recipes, inspirational quotes etc.). If your posts contain links, note the most common destinations (your website, industry research, notable awards or recognition received, etc.).
Identify what has or hasn't worked and baseline current performance.
List any key metrics or ways that you are currently determining the success of your social media activity for each platform. This can include metrics at an account level (i.e., number of followers on Twitter) or at a post level (i.e., number of likes on a post). If you do not currently track your performance, you can simply note that this is to be determined during the development of your new social media strategy.
Create a baseline for your current social media activity so that you can gauge the future performance of your new social media strategy. Each social media platform has an "insights" or "analytics" tool that tracks information like total page views, your top tweet and post engagement. There is a lot of information in these tools so focus on recording your performance for the basic metrics. Check out the boxes below for guidance on accessing these features for Facebook and Instagram. Additional resources for other platforms are available at the end of the blog.
Facebook
To access the "Insights" feature on Facebook, go to your business' Facebook Page and click "Insights" in the top menu (if it is not there automatically, click "More" to display it). This will bring you to the "Overview" page, where you can see a summary of recent page activity. Set the timeframe of the information to "the last 7 days" and record or screenshot the following information:
Actions on Page
Pageviews
Page Previews
Page Likes
Post reach
Story reach
Recommendations
Post engagement
Responsiveness
Videos
Page followers
Orders
If you want to dive even deeper into this fascinating information, check out the "Posts" section with detailed information about when your fans are online and your top posts.
For additional assistance navigating this tool, check out this great blog post from Hootsuite, a social media management platform and top industry researcher:
Instagram
To access the full "Insights" feature on Instagram, go to facebook.com/creatorstudio and click the Instagram icon in the top bar. Click "Insights" on the left sidebar and then click "Activity" to see an overview of activity for the past 7 days. Record or screenshot the following information:
Posts from the previous 7 days
Actions taken on your account
Website visits
Profile visits
Calls
Texts
Emails
Get Directions
Accounts Reached
Impressions
Accessing the "Insights" feature on Instagram requires a creator/business type account (if you are using a personal account, you can choose to convert it by following instructions here).
For additional assistance navigating this tool, check out this great blog post from Hubspot, a social media management platform and top industry researcher:
Once you have a foundation for social media in place, there are hundreds of ways to utilize social media to build your business. Don't get overwhelmed. Social media is about building a community of people who love your business; business owners have been doing that for generations. There are many great re Social media is just one tool in your sales funnel.
Next Steps
Attend the Business Builder: Driving Sales with Facebook, Instagram and More to learn more about social media tools, clarify performance insights and create a comprehensive social media strategy that supports your sales funnel. Register here!
Make your plan, test it, adapt and repeat! Stay connected with your community of fellow entrepreneurs to find support and share your journey! See future events at Entrepreneurship.ASU.edu/Peoria-Forward and reach out to us at [email protected].
Additional Social Media Platform Insights and Analytics Guides