ASU's Spring Demo Day concluded with two Peoria Forward incubation ventures receiving initial seed funding in their funding tracks.
Anthony Souris, otherwise known as Tony, the founder of Bisbee Baby, a platform that collects data from baby products, received $10,000 in funding on the Amazon Alexa Venture Challenge funding track. Tony transplanted to the West Valley with his family and sought ways to connect with the innovative community of Phoenix, AZ. Tony was a busy working professional who had a clear vision of a suite of products he wanted to develop into a business. He found 1 Million Cups where he connected with Peoria Forward.
After a wayfinding meeting with Peoria Forward, he connected with a variety of flexible resources designed to address his needs, including industry-specific mentors and the opportunity to pitch and connect with support at 1 Million Cups and the West Valley Innovation Alliance. As a high-growth idea, Peoria Forward encouraged him to apply for the Venture Devil program. Tony is well-positioned to see growth in the coming months.
Peoria resident, Jenavi Kasper, is the founder of Better Family Products, a venture focused on providing products and services designed to improve the physical and mental health of babies, kids, and parents, received $10,000 total in funding. The funds were awarded by the Retail Devils Powered by Follett funding track which started as a pathway for student entrepreneurs to get their creations into the Sun Devil Bookstore. Jenavi started working with Peoria Forward after a wayfinding meeting. Peoria Forward directed her to Venture Devils to refine her business plan and access the expertise from various Venture Devil mentors with retail backgrounds.
While working a full-time job and raising two young kids, Jenavi has developed a full business strategy, executed market research, and connected with the Peoria MET to 3-D print her prototype. In addition to winning $5,000 of seed funding, the most money awarded in the Retail Devils funding track, Better Family Products also won $5,000 worth of product design consulting.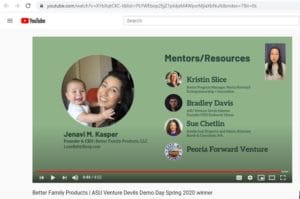 Additionally, a partnership with ASU E+I and Amazon for established ventures utilizing Alexa technology had funding recipients from the West Valley. West Valley venture and resource partner Ron Babich connected with the program through the workshop sent to him from Peoria Forward. Ron's venture Easy Voice was one of the firms to receive grant funding and continued Alexa training, with Bisbee Baby, to further develop their technology.
These Peoria-based founders competed alongside 83 other ventures on this iteration of Demo Day vying for their piece of $312,000 in seed funding. The West Valley's family values and focus on simple, innovative technology to address everyday challenges is translating into great business strategies that stand out in a crowd and are deserving of recognition.
These are just a few of the latest exciting successes for Peoria Forward ventures as we continue to leverage ASU resources, partnerships and expertise to grow the West Valley entrepreneurial ecosystem.