At ASU, we define entrepreneurs and creatives broadly and inclusively. Complementary industry areas feed and provide one another with fresh, new perspectives; the integration of multiple industries can lead to exciting innovations. The diversity of startup and scale-up of companies can lead to more impactful and lasting outcomes.
Connecting with Local Resources.
Connecting with other entrepreneurs and your city partners is essential, and there are endless ways to start getting connected with all of the local resources available to your business. 
The first thing to know is there are a lot of resources out there! A thriving entrepreneurial ecosystem requires diverse resources that are as diverse as entrepreneurs themselves. Not all resources will be an exact fit for what you need at this moment in your business. We encourage you to explore all of your options because often you don't know what you don't know!  While it is easy to get caught up in the whirlwind of starting or growing a business, these resources will help you work ON your business as well as in your business. 
Below is a list of the top resources utilized by emerging entrepreneurs in the West Valley; however, this is only a portion of the list. 
A great way to connect with all of these resources is by attending or presenting at West Valley 1 Million Cups. Every week entrepreneurs and business owners share their story and connect with local resources. This event is free and open to everyone, you should attend, but the most consistent feedback we hear at those events is I wish I would have known about these resources sooner! 1 Million Cups is holding their meeting virtually using Zoom through March 2020.
Whether you are still thinking or have already opened your doors, it is never too late to access local resources and build a stronger foundation for your business. 
Here are three other local resources to take advantage of:
All of these resources are most effective once you have established your business plan and model. If you are still developing your business, you can utilize these great resources: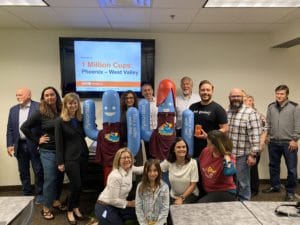 Other Best Practices for Starting a Business Specific in Peoria
If you are operating any portion of your business in Peoria, you need a business license. Getting a business license helps connect you to City resources and helps the City track information on how the business community is doing. 

When you submit your business application, you will get an assigned number, that does not mean you have a business license!

You do not have a business license until you get a hard copy mailed to you.

Your business touches people in the community in many ways, your license application is reviewed by many departments, and if any of them have questions or concerns, they will reach out to you by phone. Just an FYI, any calls from the City show up as "Restricted" on your phone. It is important to be responsive to make sure your application keeps moving forward!

When in doubt, reach out! Haven't heard anything in over 30 days? Have questions? Reach out to the business license team 623-773-7160 or email [email protected]. If you still have questions, the economic development team has a Business Concierge, Karen Calivas, Kar[email protected], who can help you find more information.

When it comes to working with the City, remember it is a partnership. You have to be ready to advocate, educate and reach out and know that the process takes time. Not everything can move as fast as entrepreneurs do!
Take a Catalyst Action
It is time to apply what you learned and pay it forward. A Catalyst Actions is designed to help you connect while helping build the entrepreneurial community.
 Whether it is with one of the new contacts you meet doing research, someone you found on social media, or even a friend or family member, tell them about your vision and your next steps.
Then ask them how YOU can help them.
What?! You read that right, ask them about their current ventures to build Peoria, and how you can support them. Givers gain! Don't be afraid to ask good questions to help them identify their real needs. Bonus, if you can find a way to help them, that also moves the needle on your goals!
Don't wait to find out the flood of valuable information available to you in the Peoria entrepreneurial ecosystem. ASK NOW! Post a question you have been looking to answer on social media using the hashtag #PeoriaForward and tag @ASU E+I .

Do a quick google search, find one other current entrepreneur in your industry or field. It doesn't have to be local or an exact match.  Send a quick email, LinkedIn message, or event pick up the phone. Introduce yourself and ask if they could share what licensing they had to go through to start a business. Be brave! You will be surprised by what you learn.
Too much? Catalyst Action for those not ready to do outreach:
Your municipality is not the only government entity that you need to be thinking about. Every industry has different regulations and standards, which makes navigating the local licensing event more challenging. There are some great checklists and resources out there; we also suggest making connections with other entrepreneurs to learn about what is required. Your next Catalyst Action is to spend 15 minutes learning about the licensing and regulations on the Arizona Commerce Authority Small Business Checklist.
Background
Peoria Forward is a strategic partnership between the City of Peoria and ASU Entrepreneurship + Innovation drawing on the combined strengths and expertise of the City of Peoria and Arizona State University Entrepreneurship + Innovation, this strategic partnership places tools, training, and resources in the hands of our leaders, entrepreneurs, and innovators to build a self-sustaining entrepreneurial ecosystem in the west valley. Peoria Forward is an opportunity for the citizens of Peoria to shape a high-impact vision of the future of our City through entrepreneurship.