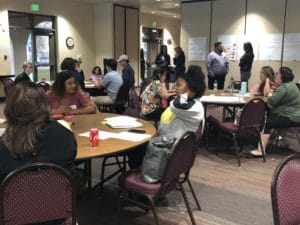 Over two days, the best creative minds of the West Valley worked together to build real-life solutions to challenges within their community as part of the Community Innovation Summit on February 21 & 22 at the Pendergrass Learning Center off the 101 and Indian School. The event was a partnered effort between ASU Entrepreneurship + Innovation, Glendale Community College, and Estrella Mountain Community College. Community college students of different majors, backgrounds, and experience came and practiced entrepreneurial business skills needed in today's workforce.
"The growth in the West Valley offers prime opportunities for institutions of higher education to collaborate on opportunities like the Community Innovation Summit; to build an ecosystem of creative problem solvers and changemakers dedicated to making a positive impact in our Phoenix metropolitan area communities." Elizabeth A. Cantú, a faculty representative from Estrella Mountain Community College and a member of the committee that brought this event to life.
Five diverse community organizations presented the students with significant challenges faced in their community. Participants selected the issues they felt passionately about and created collaborative teams who spent time working on a specific solution to solve those issues. The New Life Center, the largest domestic violence shelter in the state, presented the challenge they face with transportation of residence to aid them in accessing the necessary resources to transition into a safe home. The Ripple Effect, which offers mental health support to veterans, discussed their goal to help coordinate and leverage the multiple organizations working to support veterans. The students had the opportunity to ensure that all underserve student populations thrive in higher education by working with the EMCC- Title V Equity Gap Research Team. Additional community presenters included Guild Health Consulting, discussing using SMART data to address the opioid epidemic, and the Maryvale Center discussing the need for everyone to participate in the upcoming census.
All participating students formed teams and worked on creating real solutions utilizing a variety of entrepreneurial skills and tools that where presented. Participants were introduced to the business model canvas, how to develop an MVP, and interviewing stakeholders to build viable solutions. Instead of hearing about these topics, the participants actively applied their lessons to both their team solutions and their individual goals moving forward.
Several local entrepreneurs and resource partners came out to mentor, supporting participants' awareness of the variety of resources available in the West Valley to help them advance on their entrepreneurial path. Weaved throughout the over 15 hours of intense work, the mentors shared their stories to provide inspiration and vision of how these skills can translate in the real world.
As a group, the team worked to several an engagement strategy for Ripple Effect reaching out to local veterans through family activities as local community events. As teams, they developed an in-depth survey to execute on EMCC campus as well as a proposed partnership with Lyft integrating data tracking to serve as a beta solution for The New Life Center.
The event culminated with judging of the pitches by a panel of community leaders. Participants received valuable prizes, including scholarship money and access to resources to help them progress their ideas. Their unwavering efforts to solve complex local issues were presented masterly.
Community Innovation Summit participant and Glendale Community College student Nylaaja Wilks said, "It was more than I can imagine! I learned how to fill out a business model, to tell if an idea is feasible, along with trying to comprehend the details of how to construct a business."
Students came to make an impact on their community and were able to walk away with tools and continued support. Their hard work showcased the vast talent found in the West Valley and represents a powerful step towards developing the diverse voices that will propel the West Valley entrepreneurial future-forward.
The Community Innovation Summit is the result of a partnership with ASU E+I Peoria Forward, Glendale Community Colleges and Estrella Mountain Community Colleges. Peoria Forward is a strategic partnership between the City of Peoria and ASU Entrepreneurship + Innovation Drawing on the combined strengths and expertise of the City of Peoria and Arizona State University Entrepreneurship + Innovation, this strategic partnership places tools, training and resources in the hands of our leaders, entrepreneurs and innovators to build a self-sustaining entrepreneurial ecosystem in the west valley. Peoria Forward is an opportunity for the citizens of Peoria to shape a high-impact (vision) the future of our City through entrepreneurship/ community development.