Nick Suwyn has had technology and computer programming as a part of his life since childhood. Nick has always been able to equate himself with teaching through leadership roles like wrestling captain, tutoring in college and teaching music. He started his career as a software engineer after having graduated in Computer Information Systems from DeVry University. A few years into his software engineering career, a recruiter saw Nick's experience in both software and teaching and asked him if he'd be interested in a job teaching adult students how to code through a bootcamp. Nick took the job, and through his experience, he found he loved the opportunity. Nick is passionate about developing community and developing others and decided there was an opportunity to create a technology school that better serves students.

Promineo Tech originated in the living room of Nick and his partner & father, Nick Suwyn Sr. He was able to find brave individuals who were wanting to invest in his postsecondary education option while it was still in its early stages. He got started with his business in Peoria in February of 2018. Later that year, he attended Peoria Forward's first Side Hustle Panel Discussion where he connected with Kristin Slice, the Sr Program Manager. Peoria Forward offers free programming designed to build connection between the — people, ideas and resources — elements of the entrepreneurial ecosystem. He has been an active community leader since then and has leveraged the skills and resources he gained through those contributions to continue to grow his business.
Promineo Tech is both a technology postsecondary vocational school as well as an education as a service provider. They offer programs in their technology school for software development, data engineering, cybersecurity, as well as other areas of study. These programs are socially driven, and Nick works diligently to make sure they follow Promineo Tech's mission of providing affordable, accessible, low-risk education.
Selling their model
In order to get their first clients, they had to go about it in different ways for their school and education as a service model. To find students to enroll, they started talking to people in search of a career transition to begin in their pilot program. Through networking, he found people who know others who might be interested and was able to sell a few people on it and get started with his business. It was always in the back of Nick's mind that eventually, he'd need to step into the education as a service industry with Promineo Tech. He wasn't sure when he would be ready to build that model until he was approached by a workforce development organization that had been working with a competitor and saw what Nick was doing and became his first partner. It was because of Nick's exposure in his community that he was able to get those first costumers.
When it comes to education as a service, Nick's team knows exactly who the target is. They know who the decision-makers are in organizations, and it has been relatively easy for him to create a list of prospects or organizations that align with the same mission as Promineo Tech's. His team sends cold emails to get conversations started has found cold email campaigns to be very beneficial for Promineo Tech. Community involvement and referrals are what drive students to his school because people see the value and results of his programs. Nick says that there should be a shift in the way a person perceives sales for it to be successful. What he advises is to focus on how it is helping people because if you are selling something that is helping people, you are not trying to take people's money but instead offer something that has value for them. For Nick, that is changing people's lives through programs offered by Promineo Tech by helping them get into a career they want but didn't have the option of before. Not being scared when selling or intimidated when asking for money comes from believing in the value of what you have to offer your customer. Nick compares selling to a doctor treating their patient's pain.
Making connections to build a business
Being in a unique situation, Promineo Tech fits into different parts of the entrepreneurial, technology and education communities. Those three things are what make up the triangle of Nick's network. Nick dives into the technology community by going and networking with people hiring software developers, attending coding meetups as well as other ways to find valuable resources. When he looks to connect with education, Nick is part of the Arizona Private School Association, where he can network and learn about resources. Nick is also a community organizer of 1 Million Cups Phoenix West Valley, which serves entrepreneurs in communities through free weekly meetings. He also mentioned that he had found the resources he has gotten from Peoria Forward to be very helpful. He suggests that if someone is looking to find resources, they should show up to an event and ask someone who has been involved with it to get pointed to a lot of other resources because some might be what you need, and there is value and in going and showing up.
Community giveback is a great way to gain knowledge and exposure as a founder. Nick says, "I found the best way to network is to serve". Helping at events or being a part of a committee allows you to both get and give the most in your community. He has taken advantage of tools available to him like the SBDC where they helped him organize what he was doing and gave constructive feedback. He also practices presenting at 1 Million Cups where he can get feedback from community members.
Building the Peoria entrepreneurial ecosystem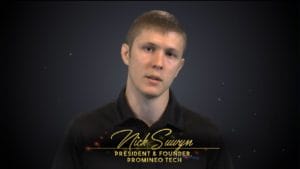 The entrepreneurial ecosystem doesn't just connect entrepreneurs; it drives innovation, which benefits consumers. Nick says when an ecosystem can thrive for entrepreneurs, entrepreneurs can thrive; more innovation happens, which brings a better place to live and offers better and more options.
Nick appreciates the environment he has in the West Valley and says that it's clear Peoria is a city that is trying to invest in entrepreneurs. Peoria has a growing entrepreneurial ecosystem that offers dreamers, like Nick, who enjoy a suburban lifestyle the ideal place to start their business. When asked why Peoria for Promineo Tech, his response was, "It's the support, it's the connectivity that exists because of the conscious, active steps taken by Peoria resources to cultivate those connections". He has found sincere networking to be something that is vital to the success of his company, and it is largely found in the West Valley.
Up next for Nick
Promineo Tech has a goal of expanding into different cities by opening classrooms so that students who want to be in person have closer options. They are also looking to launch and grow a purely online campus as well. They are currently having discussions about developing a new K-12 curriculum for school districts in Arizona and their vision is to create a community, K-postsecondary, surrounding technology education that is affordable, accessible, and low risk. If you are interested in learning more from Nicholas Suwyn, come connect with him at an upcoming 1 Million Cups Phoenix West Valley. Nick is an organizer for the weekly event for entrepreneurs at Office Evolution Peoria.
Background
Peoria Forward is a strategic partnership between the City of Peoria and ASU Entrepreneurship + Innovation Drawing on the combined strengths and expertise of the City of Peoria and Arizona State University Entrepreneurship + Innovation, this strategic partnership places tools, training and resources in the hands of our leaders, entrepreneurs and innovators to build a self-sustaining entrepreneurial ecosystem in the west valley. Peoria Forward is an opportunity for the citizens of Peoria to shape a high-impact (vision) for the future of our city through entrepreneurship/community development.
This article is part of a series of blogs amplifying the wisdom and words of west valley innovators and entrepreneurial leaders building the ecosystem.
Interested in hearing more of Nick's story and how you can get involved, follow him on social media https://www.linkedin.com/in/nick-suwyn-65b5b365/