The first three weeks at Draper set a grueling pace in pushing boundaries while providing challenge and this week proved to be no different. In the past seven days students have been formally introduced to programming and Solidworks, experienced the Boost VR VC incubator demo, met with business leaders from Taiwan, met some of the most notable industry shaping names, and evolved their ideas to satisfy market research and customer fit. With programming, regardless of where the students are from, they can come together in a similar platform and work towards a common goal. Dan Mazzolla the resident programming instructor started the class off slowly to test the waters and get a feel for the average skill level, but was quickly impressed. Discussion about network systems speedily moved to designing primitive apps and what should have taken multiple days was completed in a four hour session. Programming education will continue for the next 4 weeks giving the students critical technical skills regardless of their current business concept.
While internalizing their new programming knowledge, Eli Chmouni headed the CAD and Solidworks experience, guiding the students through designing a V6 engine. The three day course went off without a hitch and even resulted in some of the students going above and beyond in making their own modifications to the engines they designed. CAD allows the students to quickly design their idea, print a prototype using a 3D printer and test the demand of the market within a short development cycle. The entire program is built on speed, research and results.
After completion of these basic classes students were then introduced to, and provided a discussion with Watson and two executives from IBM, giving them insight into the potential of their newfound programming and modeling skills. Later in the week, Tim Draper along with a group of young business leaders from Taiwan joined the discussion and provided the Draper University students insight into what it's like developing an emerging market and how important it is to look for opportunity worldwide, not just in their own communities. Students were then taken to lunch with Tim and his friends while networking and digging deeper into the foreign market.
Other phenomenal speakers included Derek Anderson, CEO of Startup Grind who gave a lecture about failing and failing again until you succeed. Mike Palumbo of MJP capital provided a dialogue on building a business from ideation to exit and Jonathan Hau, one of the original members of Invision provided a presentation on Invision and the cool things it can offer. Finally, Salesforce gave a phenomenal talk about sales, teams and expansion strategies.
After spending three weeks in the program the students have already had the chance to fail, pivot and change ideas. Some of the new concepts this week include Luke Naji's PillPlus offering covenient and easy to use prescription medication delivery service in the UK and Ireland. Myra Mohunta is developing a men grooming subscription box for India. Aimarr Hiwe and Roberta Morlin teamed up to develop a platform connecting companies with local consultants and advisors in Nigeria and Papua New Guinea.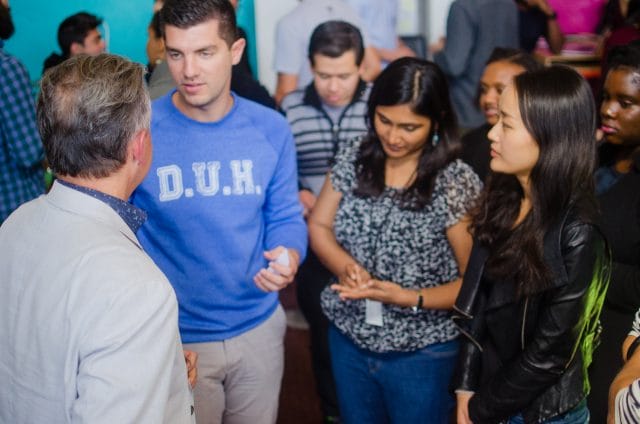 The week wasn't all work though. Boost Demo day was a massive highlight for the students as they got to head over to the Boost VC accelerator, (also ran by Draper) and witness 20 different startup's pitch VC's from around the world. The ideas ranged from blockchain driven solar panels to VR designing apps to 24/7 self sustaining drone hubs for package delivery and mapping. Students were then able to demo the different products and experience a taste of the future.
Beyond that students had a few fun activities that included an egg drop and high speed go-kart racing, which was a blast considering half of the students have never been behind the wheel of a car. Overall, the students have knocked out another grueling week at Draper and the train doesn't appear to be stopping anytime soon. For more information about joining the course 
click here.
Written by Christopher Booth, ASU Draper Entrepreneur in Residence