Still working on your holiday gift list? Let us help with ideas! Consider supporting an entrepreneur looking to delight your loved ones this season with their goods and services. This gift guide, curated by the Edson Entrepreneurship + Innovation Institute, features 16 active ventures from four of our programs, Peoria Forward, Prepped, Venture Devils and Young Leaders of the Americas Initiative.
Peoria Forward
Gloria's mission is to motivate women to embrace their own beauty and to chase their dreams, no matter the obstacles they come across. Gloria has a variety of designs and products to help women feel beautiful, worthy and Chingonas (badass). Purchase this Latina business owner t-shirt for the Latina woman business owner in your life. Purchase by 12/13 for it to arrive in time for Christmas.
Support Gloria: https://shopgloriale.com/products/latina-business-owner-tee
Vera Vara makes fine jewelry for nurses in honor of their hard work and dedication to public health. Gifts for the registered nurses among your family and friends include a set of bow earrings and three necklace options. When you purchase, 5% goes toward the Robin Cain Foundation at the Phoenix Children's Hospital.
Support Vera Vara: https://veravara.com/
Prepped
Carmella's Savory Fare is run by personal chef, Carmella Diamond. Carmella has hosted clients such as Bosch, Thermador, Gagganau and NASCAR. Consider giving catering or a cooking class that includes a private dining experience and a lesson on farm-to-table dining for the foodie on your gift list. Purchase and get 20% off!
Support Carmella's Savory Fare: https://www.carmellasavoryfare.com/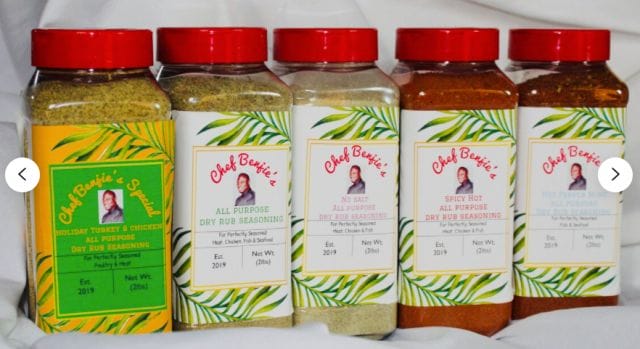 Chef Benjie is a private chef, caterer and grill master offering a holiday blend of spices. Enjoy five seasoning blends to add flavor into your home cooking, including holiday turkey & chicken, spicy hot, all purpose, hot peppermint, and a no salt all purpose dry rub.
Support Chef Benjie: https://www.etsy.com/listing/1103000360/chef-benjies-extra-large-cooking
Drink Me! Tea Room is great for the person in your life who would love an afternoon tea experience with tea, cocktails, and plant-based and gluten-free savory bites, scones and sweets. Make a reservation for a London-inspired high tea experience.
Support Drink Me! Tea Room: https://drinkmetearoom.com/
Early Bird Vegan has individual heat and serve holiday meals from now through December 31st. These hearty holiday meals include roasted veggie chickn, mashed potatoes with gravy, stuffing, green beans and a slice of herbed focaccia for $15. Add a cheez cake for just $5 more. Purchase an assorted pastry box of five pastries for $25.
Support Early Bird Vegan: https://www.earlybirdvegan.com/
Hunger Bomb Cookies is a local baking company, owned by a registered dietitian nutritionist. Healthy, low-sugar treats that are delicious, low glycemic, and diabetic friendly. Several options are available, including non-gluten, vegan, and keto friendly. For the holidays they offer "over the top" flavors, in a Holiday Big Bag, including: Peanut Butter Blossom Protein Packed Cookies, Christmas Peppermint Brownie Cookies, Non-Gluten Vegan White Chocolate, Cashew & Cranberry Cookies and more.
Support Hunger Bomb Cookies: https://hungerbombcookies.com/
Phoenix Coqui is Arizona's #1 Puerto Rican food truck. Purchase a gift card for the mofongo, tostones, pernil and empanadilla lover in your life! Gift cards can be used towards meals at the food truck or on catering orders.
Support Phoenix Coqui: https://squareup.com/gift/KR5YFGEJ3NKQ7/order
Positively Frosted makes plant-based desserts, pastries and snacks. This year, owner Mandi has holiday cookie and cupcake boxes. Pre-orders begin December 14 for pick up during the week of Christmas.
Support Positively Frosted: https://www.instagram.com/positively_frosted/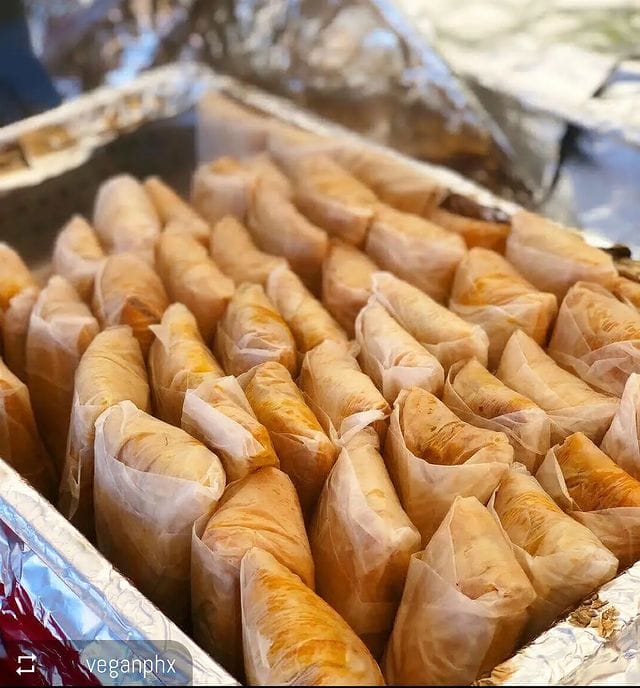 Raul's Cocina serves up traditional Mexican food, all vegan and gluten-free. Gift your loved ones with tamales, rice, beans, albondigas, pozole, salsa, hearts of palm ceviche and more. Find them at Main Street Harvest in Mesa Wednesdays-Sundays at 121 W. Main Street, Mesa, AZ 85201.
Support Raul's Cocina: https://raulscocina.com/
Venture Devils
Conscious Gear makes outdoor gear and apparel for bigger bodies with a focus on size inclusive activewear for outdoor enthusiasts and endurance athletes. Purchase their outdoor themed t-shirts and get on the list for pre-sales of their new hydration vest.
Support Conscious Gear: https://conscious-gear.com
Cafe Emporos offers personalized coffeegrams and teagrams on their website, cafeemporos.com. Simply upload a special memory and heart felt message to be printed directly on coffee/tea packs and send as greeting cards to loved ones. Perfect for stocking stuffers, clients gifts, and the person that is difficult to shop for.
Support Cafe Emporos: www.cafeemporos.com
Pot Heads Tea makes handcrafted loose leaf teas from around the world, candle and tea bundles, matcha tea sets for the tea-loving and cozy loved one in your life.
Support Pot Heads Tea: PotHeadsTea.com
Young Leaders of the Americas Initiative
Handmade LATM is a consultancy agency for local buyers and designers looking to connect with artisanal communities in Ecuador and Latin America.
Sourced from their curated network of artisanal leaders and fair-trade ethical brands, Handmade LATAM has partnered with Feel the Andes and Shop Rayu to bring you the perfect gift ideas for your family and friends.
With your purchase, you are supporting artisanal communities and their families in Ecuador and Peru along with their ancestral heritages that have been passed down for generations.
Handmade LATAM offers the ASU community a 5% special discount code on their purchase by using the code: HANDMADELATAM during checkout.
Learn more about the brands:
Feel the Andes is an ethical and sustainable brand with unique fair trade products from Ecuador ranging from home decor to alpaca knitted products. Based in Inbabura in the Andean Highlights of Ecuador, Feel the Andes works with organic agricultural standards by sourcing 100% organic textiles and fibers not grown or produced with damaging chemicals, and fabrics not colored with harsh dyes and paints.
Support Feel the Andes: https://www.etsy.com/shop/FeelTheAndes
RAYU is a women-owned accessories brand. All of our pieces are made from organic materials and handcrafted by women artisan groups in Latin America. Rayu's winter collection includes alpaca blankets, hats, gloves and scarves. All products are handcrafted by a women's artisan group from Peru and made from organic, fair trade and Oeko-tex certified alpaca wool. All products are produced in small batches.
Support RAYU: https://www.shoprayu.com/shop
Warany, a proponent of slow fashion, fuses tradition and innovation to make bags and hats with modern designs in collaboration with local artisans in Paraguay. Warany preserves the generational knowledge and art forms for these crafts.
Support Warany: https://warany.com/tienda/
ASU does not endorse any products or services, but hopes to make it easier for everyone to invest their holiday spending back into our local community. Purchasing from a local small business is one of the best ways to build stronger local communities. We are proud of the amazing artists, authors and makers who are part of our local entrepreneurial ecosystem.