Traditionally, many entrepreneurs who were looking to develop websites or mobile applications were stuck if they didn't have some basic level of coding experience. This additional hurdle made digital creativity and entrepreneurship more difficult to engage with for many without the requisite coding skill sets. Yet today, with the emergence of the 'no code movement,' entrepreneurial participation is becoming more and more accessible. For example, creating a website for your next entrepreneurial venture has never been easier — free website builders like Wix, Weebly, Webnode and Strikingly, among others, allow new entrepreneurs bring their brands to their audiences without any coding at all.
Despite the ease of the experience, it is still important to ensure that your website is optimized to drive engagement. Below are a few top tips from the Center for Entrepreneurship at the W. P. Carey School of Business, that will allow everyone to create a website that their audience was hoping for.
Make Your Website Mobile Friendly
While you'll probably create your website on a laptop or desktop computer it's important to remember that, as Host Gator reported, many of your digital audience may be looking at your website via a mobile device. For that reason, we'd strongly suggest that any website you create should be tested; thankfully, a free "Mobile-Friendly Test" is available. This tool helps you to ensure that your website's mobile experience is user-friendly by pretending to be a customer and performing a practice run through each page.
This mobile-first trend is set to continue throughout 2021 as Business Insider notes the rise of "m-commerce," or making purchases on mobile devices.
While most free web builders will help to optimize your website for mobile use already, when something is this important, it doesn't hurt to put a little extra time and effort to ensure mobile-functionality and ease of use.
Have Intention
As you build your site, consider how each element will work to improve the customer experience and drive engagement.
For example, in 2019 Peep Laja reported on cxl.com that 'it takes about 50 milliseconds (ms) or 0.05 seconds for [a website visitor] to form an opinion about your website.' With such a short window to make a positive impression, your Landing page (the page that someone 'lands' on when they visit your website) isn't a place for generic statements or unplanned images — the information included should be intentional, demonstrating the specific value that your new business will provide.
In a world of quick decisions, the same intention should be taken for every single page, image, and link in your website. As you develop your digital presence consider what you're communicating to your audience, and optimize accordingly.
Include Testimonials
We've noticed that before making an online purchase, we often check the product reviews to see what others think. In fact, we sometimes rely on product reviews more than the professionally manicured content that the business develops itself. This is one of the reasons that customer reviews are such an important part of digital marketplaces like Amazon.com and Etsy.com. If you think about it, you may find the same value of testimonials to your own personal web surfing and digital purchasing activities.
In 2013, Salesforce reported that 89% of B2B marketers identified customer testimonials as one of "the most effective content marketing [strategies]" along with case studies (88%), with that importance only seeming to increase in the last 8 years. You can provide this same opportunity to your users by including testimonials of highly engaged audience members and clearly satisfied customers. Showcasing this type of satisfaction can provide reassurance that your new business delivers on its promises.
This overflows into your overall marketing strategy, where you should constantly be monitoring your audience interactions to find and bring attention to your natural promoters.
Take Advantage of SEO
A great way to gain exposure for your site is to have a basic understanding of Search Engine Optimization (or "SEO"). Understanding the principles of SEO will help your website appear sooner when potential customers make an internet search, potentially leading to more audience transactions or conversions. To put it simply, including keywords that describe your business on your website is critical for those searching on Google to find you.
When starting out, learning the fundamentals can go a long way. There are many guides online that can teach you more about SEO, this YouTube video is a great place to start for beginners, and for those who want to continue their learning: Google's Skillshop training platform is always a great tool. These fundamentals will help your website to draw in visitors.
Ensuring that you have a mobile-friendly, intentionally-designed, reviewed and promoted website will help to promote your new entrepreneurial endeavor digitally. While digital engagement has been a valuable tool in the past, new approaches are ensuring that this type of promotion is available to everyone, regardless of your level of experience in web development.
Double Check Your Critical Content
Surprisingly, a lot of small business websites are missing critical information like where a business is located or even what they actually sell. Before going live, double check to make sure that your website has the following components:
Powerful homepage: clearly state your what your business does, who it serves and why a customer should care.
Core products or services: showcase your best-selling work even without e-commerce capabilities.
About Us: build a connection with potential customers to encourage them to purchase and promote.
Contact details: ensure interested customers know how best to reach out.
For more details on how to effectively create each of these critical content areas, download the No-Code Website Worksheet and use it to prepare for creating your own small business website. The worksheet is a fillable PDF worksheet for you to download and use as you are building your website. We recommend updating and sharing the worksheet as needed.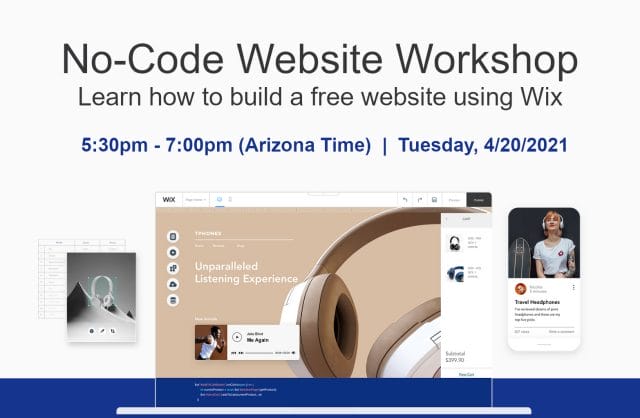 To learn more about building a website without code, join us for an interactive virtual workshop for a demo of the Wix website building platform as well as fun hands-on activities to practice what you learn.