Week #1 at the ASU Draper Hero Incubator program wrapped up Sunday 10/2/16 and focused on re-framing mentalities, breaking down barriers, and thinking in 10x. When interviewed after their first week, the students used an array of descriptions to illustrate their beginnings at Draper, but two words continually stood out: Challenging and Rewarding. Challenging for the reason that the program consumes something like twelve to fifteen hours of their day, seven days a week and rewarding for… well, the same exact reason. They're entrepreneurs after all and their mentality is different. When others their age are thinking about the weekend, these students are thinking about their prototype that's being designed, their next big venture, or a meeting with an investor. They thrive in the challenge and stress, and ultimately understand that the moments you meet the most pressure are the moments that you grow the most.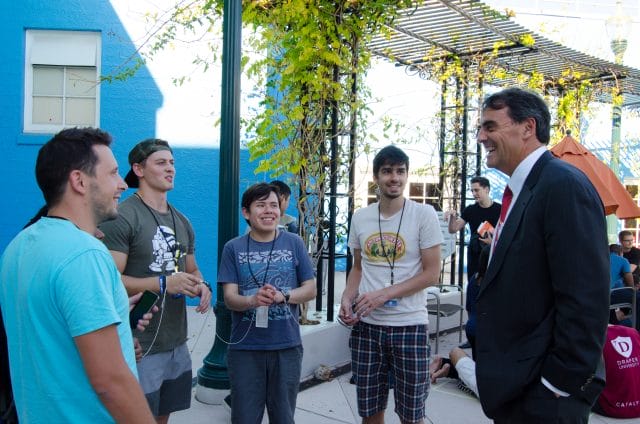 Coming to Draper, students already had a startup although at different development phases. The program makes large strides to completely destroy and reframe their pre-existing notions surrounding business. Here crazy wild ideas are encouraged and proposals with 10-15 year world impact is admired.  Starting a social media platform? Another app? Where is the innovation to make you stand out and survive the world we live in? We are here to support and invest in businesses that may have an extremely large amount of risk, but an exponential upside. Embrace thinking in 10x. Let's explore virtual reality, augmented reality, space elevators, computer designed babies, getting blockchain into emerging countries and even Mars, and whatever other seemingly ridiculous ideas you might have, because these are the future norm. Getting students to think like this, who, their whole lives have been told to play it safe is no easy task. Luckily they are surrounded by staff, mentors and guest speakers who guide them through that process.
Here is our journal entry of what happened during week #1.
Considering that there are nearly 20 different languages spoken here, the first day kicked off with a few simple team oriented activities that started out easy, like jumping into the pool with your team. Eventually the tasks evolved into situations like being tied up with five other people and forced to go around town collecting super specific items, like the mayors signature or playing in a volleyball tournament where each team was able to apply their own rules in an attempt to outdo the others.
Knowing that classes go from 10 am to 9 pm with no dull moment in between, students then pitched their business to Tim Draper. The schedule is usually kept secret from the students until the day of, making sure everyone gets comfortable with ambiguity and with being uncomfortable. Once they unified in embarrassing themselves, barriers began to melt and trust in their teammates developed. A spectrum of brilliant speakers visited the students to help them foster a risk seeking mentality.
Pascal Finette who has done extensive work with Google, Mozilla, Tesla and now runs Singularity University led a talk on pushing our world towards advanced tech. He outlined the mentality that's made him and other entrepreneurs successful and what we can expect to see in the next few years as far as technological development, all while answering questions about everything from his experience with Google Glass to driving in his Tesla on autopilot with his mother for the first time (which we assure you was hilarious). He did a phenomenal job of showing the students that in the beginning of a 10x start-up, it's difficult to break through to your early adopters due to the generally absurd cost of emerging tech, but if you can persevere, it will be more valuable than any of your other twenty other safe ideas combined. These are the types of concepts that may be the hardest to get to market, but almost every time they are the most rewarding monetarily and for the good of humanity alike.
Watch this short vlog
from Juan Acosta interviewing Mr. Finette. Another excellent speaker, Dr. Joon Yun gave a talk on the lifespan of humans and gave insight into his work at Palo Alto with the Palo Alto Investors who are actively fighting aging with science. His speech continued the theme on thinking in a 10x scope, focusing on what your ideas would like in 5 years, 10 years and 15 years. The core of his talk focused on that if your business isn't helping shape the world in 10 years, then it's not worth building and a VC won't invest in it.
Not necessarily discussing thinking in 10x, but instead choosing to illustrate the concept through his actions, was William Santana Li, the CEO of Knightscope. William provided an excellent dialogue on his roving security bots that have been licensed to patrol the 2020 Tokyo Olympics. He's created a robot security force that gathers real time data on crowds and can recognize concealed weaponry among a slew of other sci-fi utilities like monitoring over 300 license plates a minute. After having their thought process challenged, the students were then forced to get into groups and embark on a 48 hour herothon hackathon. For most of us entrepreneurs we've been to a hackathon or fifteen, but this one was a bit different. The theme is 15 years into the future with categories such as healthcare, transportation, government and education. Teams have to conduct market research, come up with an idea, prepare a minimum viable product, and pitch to a panel of 4 judges during the allotted time of 48 hours.  Sounds challenging right? That's because it is.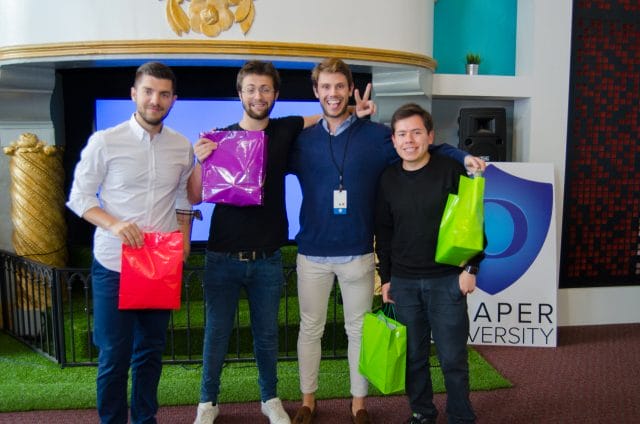 With these parameters in mind the students set off to work. The ideas were everything from a company called GENIE that provides genetically designed babies that a couple make in a VR world, allowing parents to see their child before it's born; to a MagLev car system and roadway. ASU student Austen Mark led his team in developing a Virtual Reality program that allowed users to visualize their health and fitness as it changed over time if they continued with current habits. He said, "it's crazy to think that only a week ago I was concerned with driving traffic back to malls and now I'm more concerned with what world changing ideas I can come up with." The winning team composed of Lucas Medem, Luke Naji, David Vargas and Albi Zhulali, was 10xDrones, who developed a functioning product, offering on demand private aerial surveillance through drones.
Asra Nadeem, DU Program Director said, "The hackathon gives the students the confidence to design and build their business in a short period of time and under stressful situations. They learn the importance of teamwork, market validation and prototype development." Having gone through the program herself as a student 2 years, Asra pushes the students daily to create with gusto and enthusiasm. There has been a profound shift in the minds of the students here at Draper and we're extremely excited to see what the next week has in store! Every student agrees that they feel they have been here for months. Our story is just beginning, continue joining us weekly as we build not only 10x businesses but also 10x leaders. We are going to leave you with some pool jumps because those happen a lot and they are fun :)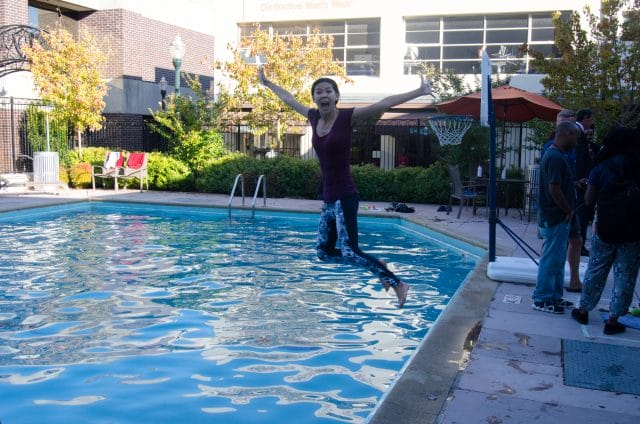 —– Interested in earning 30 ASU credits while attending the program,
apply here
and you can be the story. Follow us on
Facebook
Twitter: @Draper_U Instagram: DraperUniversity