On Sunday September 26, 2016, 44 students from around the world joined the ASU-Draper Hero Incubator Program in San Mateo, geared toward advancing their entrepreneurship mindset and launching their startup. Six of these students are juniors and seniors from ASU seeking degrees in engineering, business and design.
ASU and Draper University have joined forces to create a premiere entrepreneurial program that does not focus on generic startup concepts you read about in books or encounter in a classroom. Designed with students and young adults in mind, the program is designed to grow leaders, provide business operation education through world renowned speakers such as Elon Musk, and teach the tech tools needed to build a concept from ideation to revenue, The 9 month program will be action-based learning divided into 3 modules. The first focuses on ideation and product market fit, the second teaches the technology tools required to build the company such as CAD and iOS/Android programming, and the third focuses on marketing and sales applications. At the end of the program students have the opportunity to pitch their business during demo day to various Silicon Valley investors including Tim Draper. During the entire program, students live, learn and grow in San Mateo, CA at the Draper University campus.
ASU juniors and seniors selected for the incubator get to build their business in Silicon Valley while earning up to 30 ASU credits and an entrepreneurship certificate from W.P. Carey School of Business. Program Director, Eli Chmouni said, "The incubator is the chance for every student to interact with top entrepreneurs from around the world, learn from experienced mentors, and transform their life forever, all while earning ASU credits." It is only the second day of the incubator and students have already broke out of their comfort zone with some quirky ice breakers, jumped into the pool with Tim as their first steps into getting started, and went on a scavenger hunt that tests their teamwork and communication skills.
The program is a global destination for people who want to acquire an entrepreneurial mindset, be it to build the next unicorn company or transform existing organizations. "Arizona state University was recently selected again as the #1 innovative university in the country and now with our partnership with Draper University we can continue to break the mold in building the new American university", said Eli. The first module (7 weeks) is currently in session and focuses heavily on the ideation stage of a startup while developing the necessary skills to reach market validation. This includes leadership hero workshops, CMS, basic CAD, introductory programming techniques, sales and communication classes all hosted and taught by actual entrepreneurs and business leaders. The rigorous classes will go from 10 am to 8 pm every day with no two days being the same. Every day offers a different class, mentor, and experience with the primary goal of getting students to a solid minimum viable product.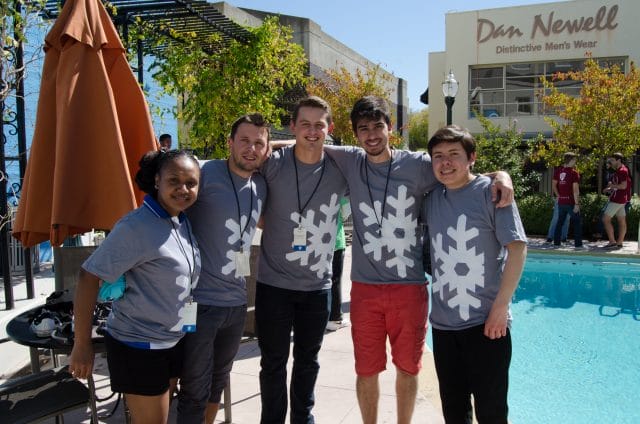 Roman Stephan from Anchorage Alaska is a junior at ASU seeking a BS in Entrepreneurship is currently attending the program. When asked about his participation in the program Roman said, "I wanted to grow as a leader and learn from the best to increase my chances of a successful startup." Roman is currently exploring various startup ideas in the fields of outdoor adventure and fitness. All ASU students attending the incubator have received $22K scholarship to advance their passion to build new companies. Interested in being considered for the ASU Draper Hero Incubator,
apply here.
– About – Draper University, based in San Mateo, is an institution backed by some of the most established names in the industry including Tim Draper, Mark Andreesen and Mark Benioff as well as boasting students from over 53 different countries with $24,000,000 raised in funding by alumni. Follow their journey on
Facebook 
Twitter: @Draper_U Instagram: DraperUniversity