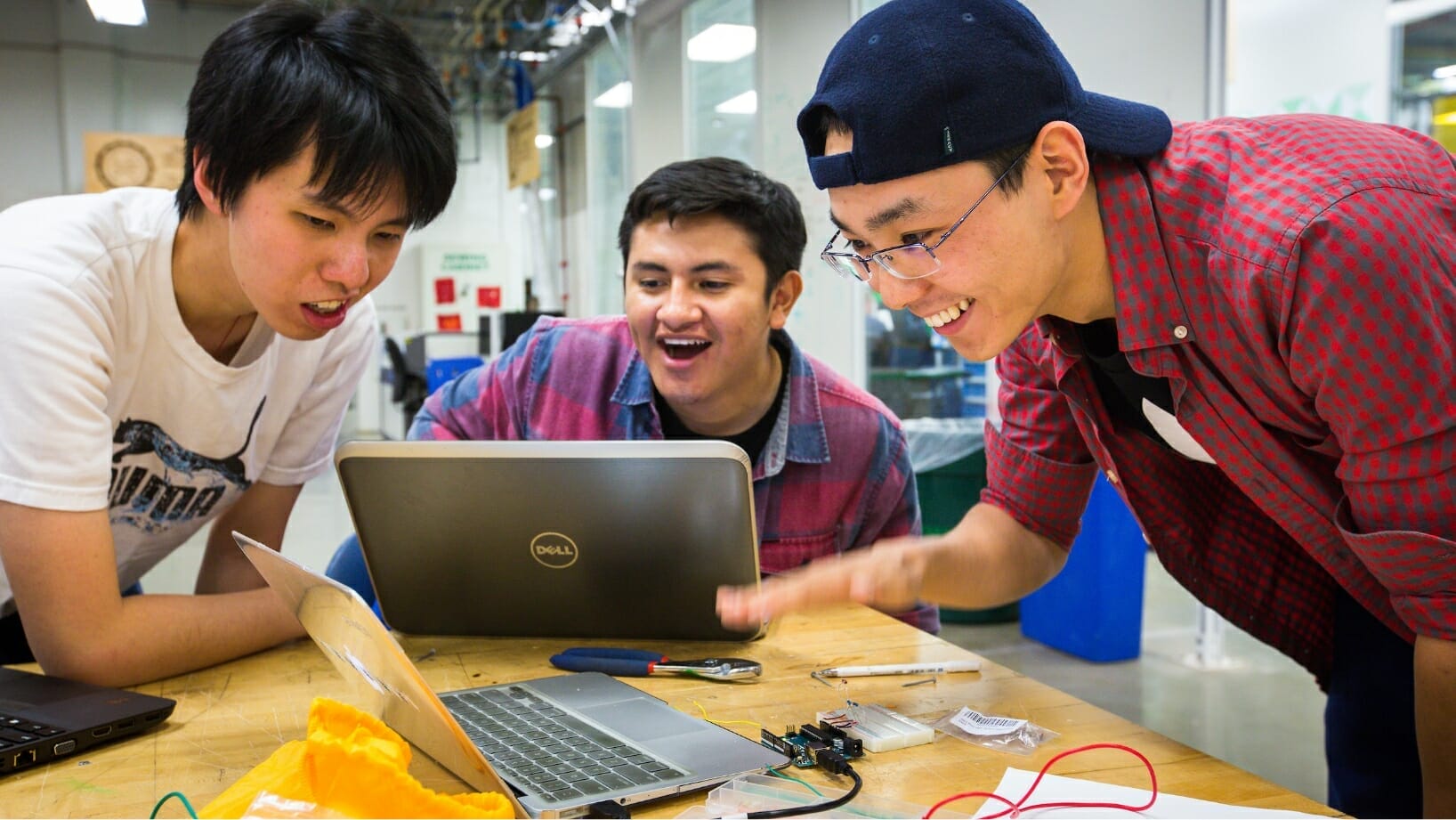 Supporting entrepreneurship in perpetuity
Arizona State University and its Edson Entrepreneurship + Innovation Institute have amassed a collection of prestigious awards and honors for innovation, entrepreneurship education and support, and impact on the local economy as well as across the nation. The following is a sampling of our accomplishments.
Recognition and awards
#1 in the U.S. for innovation
For the seventh consecutive year, U.S. News & World Report ranked ASU No. 1 among the Most Innovative Schools in America, ahead of MIT and Stanford. The top rating was conferred by leading college officials across the country based on curriculum, faculty, students, campus life, technology and facilities.
Top maker school
In 2021, Newsweek named ASU one of the best Maker Schools in Higher Education, among more than 2,000 communal makerspaces around the world. Selected schools demonstrate the ingenuity and community engagement that are hallmarks of the maker movement.
Top-10 school for U.S. patents
In 2021, ASU ranked No. 10 for U.S. patents issued to U.S. universities and No. 11 among universities worldwide by the National Academy for Inventors and the Intellectual Property Owners Association. This is the third consecutive year ASU reached the top 10 nationally, reflecting ASU's commitment to solving society's biggest problems through invention and innovation.
ASU makes top 10 in U.S. patent rankings for 3rd straight year
National Science Foundation Innovation Corps
Edson E+I Institute is one of 99 NSF Innovation Corps hosting institutions across the United States that fuels faculty and student efforts to transition research into the marketplace.
Top institution for inclusivity
Edson E+I is one of the first 12 organizations to win the Kauffman Inclusion Challenge from the Ewing Marion Kauffman Foundation. The Foundation awards grants to organizations that have exceptional track records in removing barriers that make starting and growing a business more difficult.
Top university for tech transfer
In 2017, ASU placed highly in the Milken Institute's ranking of best universities for tech transfer, climbing to 21st place from 43rd place in 2006.
The Entrepreneurial University
ASU was selected as The Entrepreneurial University at the Deshpande Symposium for Innovation and Entrepreneurship in Higher Education in 2016.
Arizona No. 3 in growth entrepreneurship
The Kauffman Index of Growth Entrepreneurship maps the 40 largest metro areas in the U.S. by their high-growth entrepreneurial activity. In 2016 they ranked Arizona No. 3, based on the rate of startup growth, share of scale-ups and high-growth company density.
---
Our impact
$60M+
in grants and gifts and 3 endowed funds
1,000+
students supported through the Venture Devils program
800+
active Venture Devils teams
400+
Title I middle schools served across the U.S.
130+
technology labs created for youth entrepreneurship programs in middle schools across the U.S.
100+
food entrepreneurs served through Prepped. Of these, 67% identify as women, and 66% identify as a minority
46
team members within Edson E+I and through cross-appointments with other ASU units
---
Our highlights
We're creating access to entrepreneurship in perpetuity. A newly named institute, our support in response to COVID-19 and spotlighting entrepreneurs. Take a look and see where we've been and where we are headed.
---
Establishing a legacy, creating impact
What does this institute at ASU now mean? What kind of long-term impact does this create for ASU and the greater community? Hear from ASU leadership and local entrepreneurs about why entrepreneurship is important — especially in our world today.