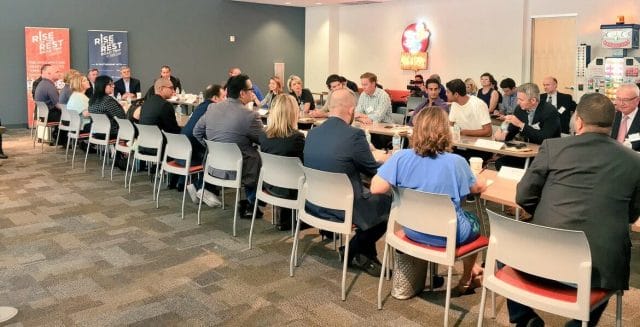 In his new book, The Rise of the Rest, Steve Case describes his vision for starting AOL (American Online). At the time, only 3% of American households were online, but Steve believed that access to the "Internet" could change the world. He boldly named his company America Online. AOL became a great American tech story. As an Oregon Trail millennial (pause to google), I am part of a generation defined by our early access to the internet. AOL was a gateway to a world much bigger than my West Valley suburban community.
Now, his vision is to bring the transformative power of entrepreneurship to every community through his investment firm, Revolution Growth and the Rise of the Rest tour. In 2016, this tour and Steve Case stopped in Phoenix. At the time, Phoenix was an emerging ecosystem with several startup events and growing buzz. I was invited to an ecosystem roundtable by ASU's Ji Mi Choi, who would later be named the Founding Executive Director of the J. Orin Edson Entrepreneurship + Innovation Institute. Ji Mi and her team at ASU supported a local effort to advance diverse business owners in Arizona. I was thrilled to participate in that effort and this particular conversation.
Once again, Steve served as a gateway to a much bigger world. That session introduced me to the world of entrepreneurial ecosystem development. The roundtable included local leaders discussing our community and how Phoenix was positioned to author a new chapter in its history as a city through entrepreneurship. I was moved by the vision of Michael Crow and the passion of the diverse voices around the table. My biggest takeaway was that Phoenix was part of something much bigger, a shift in the American economy that we could create.
And we know the work is just getting started.
As part of ASU, it is my turn to invite you to the table. Next week Steve Case will be back in Phoenix to launch his latest book, The Rise of the Rest. The book discusses his experience with Phoenix and the platform the Rise of the Rest tour created for cities and entrepreneurs. This book reminds me of the importance of entrepreneurship for our communities and our country.
As the world continues to redefine and rebuild, I hope that Steve Case and his vision serve as a reflection point for the Phoenix entrepreneurial ecosystem, celebrating our work to date and energizing our community for the challenges ahead.
Join me on October 12 in welcoming Steve Case back to Phoenix, a place we continue to build as entrepreneurs and leaders.  When we connect (or reconnect), I hope you find inspiration and share what role you want to play in advancing our community. 
About the Author
Kristin Slice is the Director of Community Entrepreneurship for the J. Orin Edson Entrepreneurship + Innovation Institute at ASU, helping develop local entrepreneurs.